How to travel on a luxury ship for half the price
This article is part of Traveller's Holiday Guide to ocean cruising.
See all stories.
Book a 15-day Atlantic Crossing cruise from Fort Lauderdale to Barcelona with Viking in December 2024 and prices start from $5995 a person. A Mediterranean Antiquities cruise of the same length and in the same month costs from $10,295 a person – or from $13,395 in October 2024.
The difference? The first is a repositioning cruise and the second a regular cruise, and therein lies your way to big savings on upmarket cruise lines.
A repositioning cruise is designed to get a cruise ship between two continents as it follows sunny or dry seasons in spring or autumn. Classic repositioning cruises link Australia with Asia, Europe with America or the Caribbean, and the Mediterranean with Asia via the Suez Canal.
Price differences can be startling. A Regent Seven Seas' cruise between Tokyo and Vancouver in April 2024 costs from $756 a person a night, while another from Antwerp to Belfast in July 2024 costs almost double, or $1450 a person a night.
Upmarket lines save on fewer port taxes and fees and fewer inclusive shore excursions on repositioning cruises. Fares are reduced to fill cabins on less popular itineraries that have fewer port calls and more days at sea.
This shouldn't be seen as a negative but as your chance to sample a more luxurious ship than you might otherwise be able to afford.
Besides, many passengers enjoy sea days and are happy to avoid the sometimes exhausting merry-go-round of port visits. Sometimes having nothing to do – not even the washing up – is the biggest luxury of modern life.
You might discover that the enforced idleness, like Sundays in the good old days, is something you appreciate. You slip into true holiday mode, slow and indolent.
You don't have to twiddle your thumbs, however. Repositioning cruises tend to be more sociable than regular cruises and have an enhanced program of daily activities to keep passengers occupied and entertained.
Best aim for a mid-sized ship notable for enrichment programs, such as those operated by Cunard, Oceania, Regent Seven Seas or Viking. Avoid smaller ships, which will likely induce cabin fever and don't have the on-board amenities, elbow room and variety of entertainment that make days at sea pleasurable.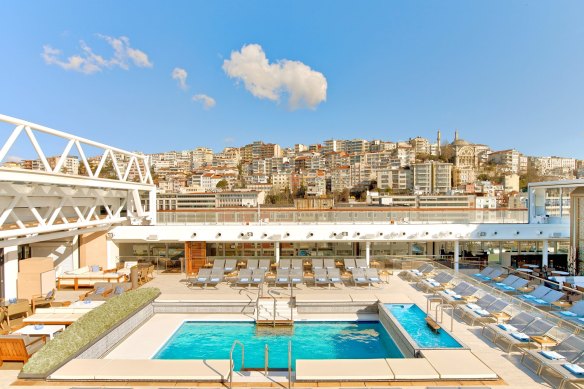 That said, small expedition ships will get you to destinations such as the Aleutian Islands, Marquesas or elusive St Helena and Tristan de Cunha: a big lure for been-there, done-that types looking to fill in minor blanks on their well-marked maps.
Even on regular lines, repositioning cruises offer a chance to tick off remote destinations seldom featured on standard cruise itineraries, such as the Azores, American Samoa or Easter Island.
A trans-Atlantic crossing with Oceania in November 2023 gets you to Madeira and Bermuda on a journey between Rome and Miami, with prices from a remarkable $271 a person a day. Hard to match that price at any luxury resort anywhere, and with some of the best dining at sea included.
Sign up for the Traveller newsletter
The latest travel news, tips and inspiration delivered to your inbox. Sign up now.
Brian Johnston
seemed destined to become a travel writer: he is an Irishman born in Nigeria and raised in Switzerland, who has lived in Britain and China and now calls Australia home.