'One word – shambles': What it's like to be an Australian fan at the World Cup
Game day in Lucknow. A queue snakes around the footpath outside a ticket collection point, as is customary for sporting events.
But this queue is not at the stadium. Instead it is at an Adidas retailer some 10 kilometres from the game. David Williams and his wife Siobhan, two of the precious few Australians who have travelled to the event, are eventually handed their tickets in time to get to the ground some 15 overs into South Africa's big win over Australia.
Absurd as this exercise has been, it is just one of many for the hardy handful of overseas supporters who have braved the capricious nature of this tournament to attend.
For Williams, from Broome in Western Australia, it's been an experience like nothing else in his memory of major cricket events. He has been to every World Cup since 2007 in the West Indies – up to this point a tournament considered the low-water mark in terms of organisational dysfunction.
That event concluded with the then International Cricket Council chief executive, Malcolm Speed, attempting to conduct a press conference as the sponsor's backdrop collapsed behind him. This time, the misadventures started months before the first ball.
Williams is a veteran of World Cups. In 2007, he had picked up tickets for two of Australia's group games, and then when it became clear they would progress to the finals, extended the trip to Barbados and jagged seats to the final against Sri Lanka.
"We had an hour wait in line, made worse by the fact that they had run out of the physical ticket paper to print the ticket details on, leading to a small riot."

David Williams
Four years later, travelling to Colombo to see Australia versus Sri Lanka once more, Williams had tickets in hand before boarding the plane in Australia. He and his wife trekked to Australia's only road game of the 2015 event, a tense, low-scoring loss to New Zealand at Auckland's Eden Park – with tickets secured before departure. In 2019, planning to attend Australia versus South Africa in Manchester, Williams' tickets were purchased before the event and were sent to their hotel for pick-up. As best as Williams can recall, he had never previously travelled to a World Cup without tickets.
Fast-forward to this year. Williams was highly enthusiastic about going to India for the cup, but as months ticked by without a schedule or tickets, he decided to make a couple of wish lists. Flights were booked and calculated gambles made about ticket availability once the fixture was finally announced in July.
Purchasing tickets online took several attempts, complicated by the fact that only Mastercard, a tournament partner, would be accepted for payments. Hoped-for tickets to see India v Australia in Chennai never materialised online, leaving games in Lucknow and Dharamshala as the next best options.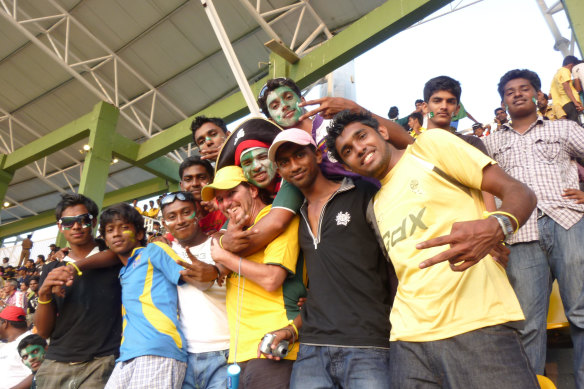 "When booking the tickets we received advice that we would receive further information about how we could pick up the tickets via email or SMS, but that advice was never forthcoming," Williams said.
"So we arrived in India five days before being due to see our first match in Lucknow without any tickets in hand, nor any instructions on how to pick them up."
As it was, Williams was able to purchase a couple of spares for Australia's showdown with India in Chennai from a fellow guest at his hotel, who picked up the tickets from an Adidas store. Upon arrival, Williams found the lack of other visiting supporters at the game afforded him something like celebrity status.
"There were barely any other Aussies there, we counted less than 50," he said. "The crowd in the seats around us all wanted selfies with us and then once the game finished others came over, thanked us for coming and more selfies, which has continued while we have been in India."
Moving on to Lucknow, Williams read in a local newspaper that tickets could not be picked up from the stadium. Fortunately, the hotel's day manager was aware of the Adidas store where they could be secured.
"We had an hour wait in line, made worse by the fact that they had run out of the physical ticket paper to print the ticket details on, leading to a small riot," Williams said. "Eventually we got to the game at about the 15-over mark."
For the next game, against Sri Lanka, another trip to the Adidas store on match eve was met with the update that tickets could be collected at the ground, just not on game day. Eventually they were secured.
Why Adidas? While their stores have not been the pick-up point in all venues, the apparel giant this year signed a five-year, $US40 million deal with the BCCI as the shirtmaker for the Indian national team.
Sitting in the crowd as the Australians got their campaign going by securing a five-wicket victory, Williams met another countryman, Eugene, who spoke about a crowd crush while trying to get tickets from a cafe he had been directed to. The crush was so pronounced, he said, that he was only able to escape when the plaster walls of the cafe "gave way", allowing him to move.
Later on, as high winds blew through, Williams was momentarily grateful for the hurdles to attendance: "The huge banners at the top of the stadium started falling on the crowd below. They'd moved most of the crowd, but we did see a banner come crashing directly down attached to a massive frame which just missed fans by metres."
Williams has seen evidence of the situation improving as the tournament goes on. More and better information about ticket collection is now available through the World Cup website, for example, and as at previous events, proximity in the host country allows for further plans to be made.
But he doesn't blame the many who decided it was simply all too hard. "We are lucky that we had planned plenty of time on leave so we had a flexible schedule," he said. "But that wouldn't be the case for the majority."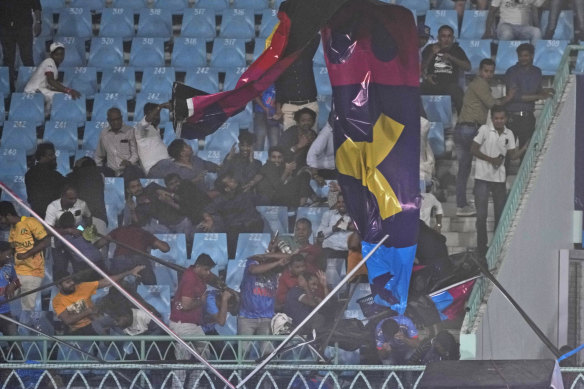 As some tournament organisers have themselves conceded, on condition of anonymity, the process of ticketing for global events can be complicated enough when planned out over two years or more.
In the case of the 2023 World Cup, the misadventures of the fans who did gamble on turning up have been the logical outcome of trying to do it all in a few short months.
Williams sums it up: "One word – shambles."
Watch every Australian game plus other big match-ups live and free on Nine, 9Gem and 9Now.
Join us for live coverage online of every Australian match with our live blogs.
News, results and expert analysis from the weekend of sport sent every Monday. Sign up for our Sport newsletter.
Daniel Brettig
is The Age's chief cricket writer and the author of several books on cricket.
Connect via Twitter.