Rugby World Cup in Australia shifted to avoid clashes with NRL, AFL finals
The 2027 Rugby World Cup in Australia will start in October for the first time since the tournament was last held in the country in 2003, after World Rugby agreed to move the event to avoid clashes with the NRL and AFL finals.
World Rugby announced the date change, and a historic expansion to 24 teams, as the governing body also voted through a host of new global competitions to begin in 2026, which will include the Wallabies taking on all the Six Nations sides inside a year.
Rugby Australia bosses Phil Waugh and Hamish McLennan were on hand in Paris as World Rugby announced the addition of four teams to the 2027 World Cup in Australia, taking the tournament from 20 to 24 teams for the first time. The extra teams will lead to the pool phase being shortened to a month, the introduction of a round of 16 and the overall tournament length cut by a week from the seven-week competition soon to finish in France.
Since 2007, Rugby World Cups have started in September and finished at the end of October, and the current World Cup in France began on September 8. But Rugby Australia successfully lobbied World Rugby and rival nations to start on October 1 and finish on November 13, to avoid clashes with rival Australian codes.
While the opening weekend may still clash with the AFL and NRL grand finals, there will otherwise be clean air, and importantly, the clean stadia – without existing signage – required by World Rugby to run the tournament. The NRL and AFL have long-term agreements with Accor Stadium and the MCG, meaning World Rugby may have needed to make a shift or stage big games at smaller venues.
"We wanted to ensure we have clean stadia and the best venues to optimise our ticket sales for all fans coming in from around the world. World Rugby totally got this and have been fantastic," McLennan said. "And it ensures we have clear air from the AFL and NRL finals."
Waugh said: "It is actually quite a big result for Australia, really. It would have been easy for the other teams to say, 'No we like it where it is and it is too disruptive to do two weeks later', and then you find yourself running into AFL and league. But everyone has looked at it pretty pragmatically and said, 'No we understand the Australian market and the competition of the sports, and we are willing to support it'. So it is a good outcome."
Brisbane and Perth would be in the running to host the opening weekend fixture, should it clash with the NRL and AFL grand final weekend. McLennan said the selection of a venue for the final – which is likely a two-horse race between Melbourne and Sydney – will be finalised within "three to four months".
McLennan said the absence of the USA in France for the World Cup (they lost to Portugal in the final qualifier) had dampened the broadcast rights value, and he hoped the US could return in 2027 ahead of hosting the tournament in 2031.
The expanded World Cup structure for 2027 came as World Rugby also voted through a significant – but controversial – Nations Championship competition.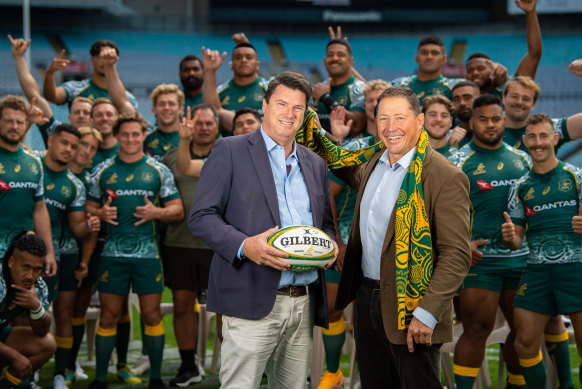 The long-mooted Nations Championship will feature a 12-team biennial competition, drawn from two pools roughly representing the northern and southern hemispheres.
The Six Nations teams will form one pool, and the Rugby Championship sides – plus two invited sides (likely to be Japan and Fiji) – will form the other pool. The teams will play each other in the July and November windows before a grand final at the end of November.
The global competition, which is run by the Six Nations and SANZAAR, is designed to add more meaning to Test matches, and help drive greater revenue via larger broadcast rights deals, ticket sales and commercial returns. The competition won't run in years containing a World Cup or a British and Irish Lions tour.
"It gives Test matches relevance," Waugh said. "When we play Test matches in the north, or teams come here, mostly the series in Australia have been good but the problem is you don't always get the best teams coming out from Europe because they're at the end of club seasons, they're carrying injuries or resting people. So you sometimes don't get the best coming.
"With the Nations Cup, every game is relevant and every Test match counts for something. So the likelihood we will get all the best players in Australia is more likely."
World Rugby called it a "historic day" but the Nations Championship was not universally welcomed, with several tier two nations decrying the new competition as a "closed shop" and hugely detrimental to the growth of emerging rugby nations, who again won hearts and claimed upsets at this year's World Cup.
World Rugby also announced it would fund and run a second division competition under the Nations Championship, and there is an agreement for a promotion-relegation system to be introduced. But the chance for promotion via play-off matches won't come until 2030, leading to criticism of the new competition being ring-fenced and leaving nations like Chile, Portugal and Uruguay in the cold for another two World Cup cycles.
World Rugby countered by saying the second division, which it will entirely fund, will give those teams locked-in, and sorely needed, annual fixtures, and they were confident of a 50 per cent increase in "crossover" Test matches between tier one and two nations during World Cup and Lions years.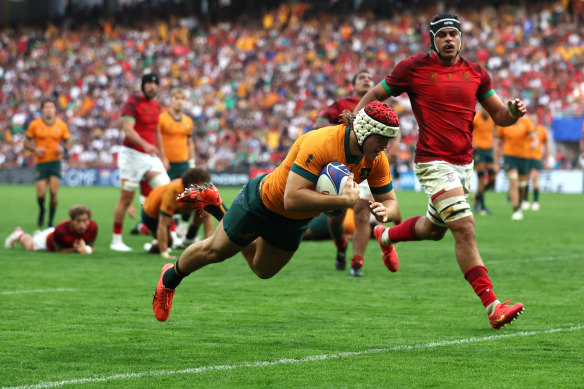 "So, promotion and relegation from 2030, taking effect in 2032 is certainly better than the alternative which is not to have that competition at all and those who were pushing not for this to happen, as has been referenced, weren't putting forward alternatives that were credible," World Rugby chief executive Alan Gilpin said.
"There is more certainty for more nations as a result of today's decisions than there has ever been. It is not perfect.
"Would we all like relegation and promotion and pathways in these competitions to start sooner in some cases than they are? Absolutely. But again, those compromises allow for that type of pathway, that type of relegation to take place in the foreseeable future, rather than not in the foreseeable future, which is what the status quo provides."
Sports news, results and expert commentary. Sign up for our Sport newsletter.
Watch all the action from Rugby World Cup 2023 on the Home of Rugby, Stan Sport. Every match streaming ad-free, live and in 4K UHD with replays, mini matches and highlights available on demand.