'Trust but verify': Biden warns Albanese on risks of dealing with China
United States President Joe Biden has warned Australia about the risks of dealing with China and vowed to press ahead with the AUKUS pact on nuclear-powered submarines, in a press conference with Prime Minister Anthony Albanese that emphasised America's commitment to stability in Asia.
Biden said his administration would take on China and present the US as a more reliable partner in the region, but he made it clear that this "extreme competition" did not mean he wanted conflict.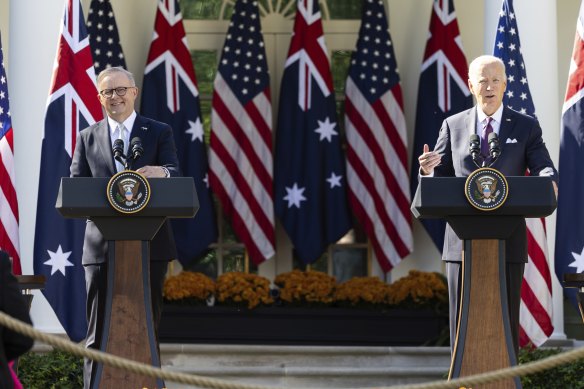 The president made the remarks while standing with Albanese at a press conference in the rose garden of the White House after a ceremonial welcome and a meeting in the Oval Office to project the strength of the Australian alliance with the US.
With Albanese due to visit Beijing within a fortnight to hold talks with Chinese President Xi Jinping, the comments in Washington sent the message that Australia could trust the US more than China.
"Trust but verify is the phrase," Biden said when asked if Australia could trust China.
"China is having their own internal and external difficulties right now.
"China's economic growth is stagnant compared to what it was. China has engaged in activities, that Russia and many others have engaged in, in terms of intimidation with other countries."
Biden emphasised US plans to heighten strategic competition with China and take on big Chinese spending plans like the Belt and Road Initiative, which finances major infrastructure projects but has left some countries with big debts to Chinese lenders.
"His Belt and Road Initiative, well, we're going to compete on that, and we're doing it a different way," Biden said.
"The Belt and Road Initiative has been a debt in a noose for most of the people who have signed on. We are working with our G7 partners to provide infrastructure for the nations that he's trying to deal with."
Biden also used an earlier meeting to send a public message to Xi that the US is committed to its role in peace and stability in the Pacific as part of its alliance with Australia.
Biden used a meeting with Albanese in the Oval Office to recount a conversation with Xi in which the Chinese leader asked why the US was so engaged with Australia.
Biden's remark, made in the Oval Office as he sat with Albanese in front of American and Australian media, sent a clear signal about the US commitment to the Indo Pacific.
Biden sat for talks with Albanese in the Oval Office and revealed a question he had been asked by Chinese President Xi Jinping about Australia several years ago.
"I was asked by Xi Jinping a couple of years ago why I was working so hard with your country," Biden said.
He added that his reply to the Chinese leader was, "We're a Pacific nation, the United States. We are, and we're going to stay that way."
On the AUKUS pact, Biden said he believed the Congress would back the agreement on nuclear-powered submarines given Australia was making a significant investment to build the new vessels.
A key barrier to the pact is a delay in Congress to pass changes to defence laws to allow the US to share nuclear propulsion technology with Australia.
Asked if he could give a personal guarantee that AUKUS would be in place by the end of this presidential term, so it could be "future-proofed" from changes in other administrations, Biden responded: "Do you know anyone in elected office who can give a personal guarantee what happens?"
He added: "I'm going to try and I believe it will get done."
The comments came after Albanese was welcomed to the White House with a 21-gun salute, an honour guard and two marching bands, while guests watched on the south lawn of the presidential residence.
Invited to the White House south lawn to watch the ceremonial welcome for Albanese and his partner, Jodie Haydon, were Australian Industry Group chief Innes Willox, ACTU president Michele O'Neil, NRL boss Peter V'landys, ACCI chief Andrew McKellar, Australian of the Year Taryn Brumfitt, Business Council of Australia chief Bran Black, New York consul-general Heather Ridout and University of Canberra chancellor Tom Calma.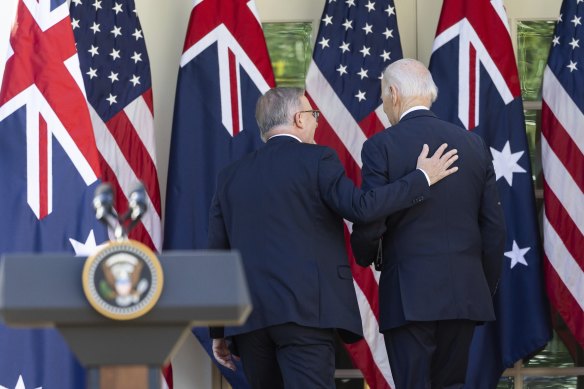 They were joined by Resources Minister Madeleine King, ambassador Kevin Rudd and wife Therese, and members of the Prime Minister's delegation including chief of staff Tim Gartrell and foreign policy advisor Kathy Klugman.
Biden introduced Albanese to members of the official party including Vice President Kamala Harris, Climate Change Envoy John Kerry and Secretary of State Antony Blinken.
The two leaders inspected the honour guard and then delivered their speeches to the crowd gathered on the south lawn, with the White House estimating the welcome was watched by 3982 guests.
Cut through the noise of federal politics with news, views and expert analysis from Jacqueline Maley. Subscribers can sign up to our weekly Inside Politics newsletter here.
David Crowe
is chief political correspondent for The Sydney Morning Herald and The Age.
Connect via Twitter or email.