Wong steps up calls for 'humanitarian pause' to hostilities in Gaza
Updated
first published at
Foreign Minister Penny Wong has joined Western allies in calling for a pause to hostilities in Gaza so that food, water and supplies can be delivered to Palestinian civilians, in her strongest intervention yet regarding the Israel-Hamas war.
Wong's shift in rhetoric aligned with a fresh appeal from the US Secretary of State Antony Blinken, who at the United Nations Security Council on Tuesday called for a "humanitarian pause" to allow aid into the besieged territory.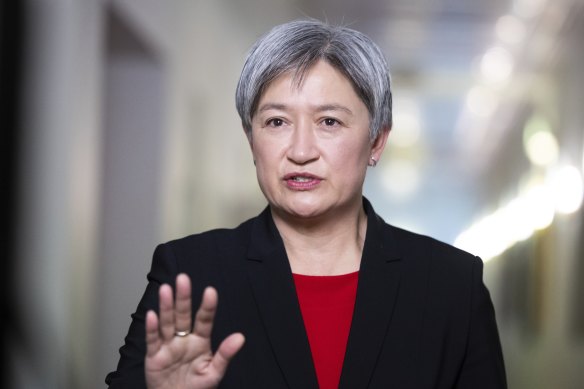 Israel's ambassador to Australia, Amir Maimon, insisted that the humanitarian situation in Gaza was "fair" and praised the Albanese government's solidarity with Israel, while calling for the world to remember "we are the victims, not the aggressor" as global attention shifts to the plight of Palestinians awaiting a ground invasion.
"With all due respect, she [Wong] represents Australia and I represent Israel. According to my information, the humanitarian situation is fair," Maimon said.
Wong has repeatedly asserted Israel's right to defend itself since calling for restraint in the early days of the conflict.
On Wednesday, she said that "the way Israel exercises its right to defend itself matters", as debate at the UN overnight split the response of the US and its Western allies, who called for a humanitarian pause, from that of Russia and Arab nations, who want a ceasefire.
A pause is considered less formal, shorter and more immediate than a ceasefire, which would require a political process and agreement between the two parties.
A brief halt in hostilities would also give more time for negotiations on the release of hostages while maintaining Israel's right to respond to Hamas' deadly October 7 attacks.
In a statement released on social media, Wong said there has been more aid access in recent days, "but nowhere near enough".
"We call for humanitarian pauses on hostilities, so food, water, medicine and other essential assistance can reach people in desperate need, and so civilians can get to safety," she said.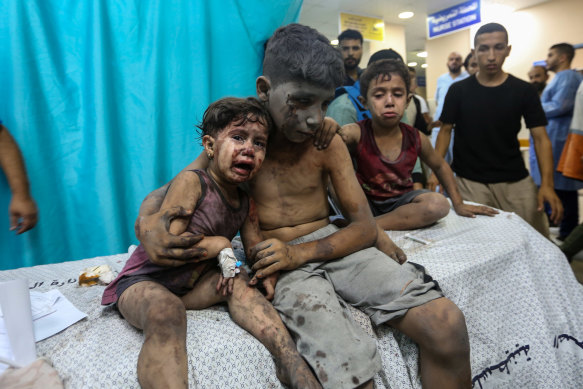 "The way Israel exercises its right to defend itself matters. It matters to civilians throughout the region, and it matters to Israel's ongoing security. Innocent Palestinian civilians should not suffer because of the outrages perpetrated by Hamas."
Later, Wong posted an update on the evacuation of eight Australians from the West Bank, and repeated her call for humanitarian pauses. "The humanitarian situation in Gaza is dire," she wrote.
Maimon, who addressed the National Press Club in Canberra on Wednesday, said Israel was not obliged to provide humanitarian assistance under international law. He said it only had "to allow the passage of humanitarian aid, as we are doing for the last few days".
The ambassador said Israel would not stop its military actions until it had destroyed Hamas. Maimon said the legitimacy of Israel's actions could not be measured by comparing civilian death tolls, which stood at about 1400 Israelis and 5791 Palestinians on Wednesday.
"I am also upset that since October 7, the focus at the moment is on the other side. People are trying to suggest that [there is] some sort of moral equivalence. There is no moral equivalence," he said, emphasising that: "we were attacked. Our people were slaughtered. We did not ask for this war".
The Palestinian Authority's representative in Australia, Izzat Abdulhadi, responded that Maimon's claims that Israel abided by international law were "really a joke".
United Nations agencies earlier said they were pleading "on our knees" for emergency aid to be let into Gaza unimpeded, claiming more than 20 times the current deliveries were needed to support the narrow strip's 2.3 million people.
The US and Russia have put rival plans to the UN Security Council for addressing shortages of food, water, medical supplies and electricity in Gaza.
Blinken said that "humanitarian pauses must be considered" to get aid into the enclave – a call repeated by Canada and New Zealand as the European Union mulled its response but is expected to do the same.
Russia instead called for a ceasefire – an idea backed by Arab states that the US has rejected on the grounds it would only benefit Hamas. UN secretary-general Antonio Guterres used a Security Council appearance to call for an immediate humanitarian ceasefire in Gaza, but his remarks on the conflict have prompted fury from Israeli leaders who called for his resignation.
The federal parliament's Friends of Palestine group – co-chaired by Labor MP Maria Vamvakinou, Nationals whip Mark Coulton and Greens senator Janet Rice – on Wednesday echoed calls for a ceasefire and said: "Israel's attacks on innocent civilians in Gaza are in breach of international humanitarian law."
Maimon praised the federal government's response to the war, despite the opposition criticising Prime Minister Anthony Albanese and Wong for not visiting Tel Aviv. The ambassador said Israel had not asked for any military or additional assistance from Australia.
"Bipartisan political support for Israel is firm and the bipartisan political solidarity with Israel in its darkest moment is beyond doubt," Maimon said.
Opposition foreign affairs spokesman Simon Birmingham acknowledged the US was considering humanitarian pauses, but said guaranteeing humanitarian aid for innocent civilians was not just an exclusive matter for Israel.
"Israel is dealing with a very complex situation and Australia's support for the disablement and removal of Hamas from a position of power must not waiver," he said.
The federal government also sent two extra aircraft and defence personnel to the Middle East to support Australians in the region as 79 Australians, permanent residents and their families remain stranded in Gaza and unable to exit through Egypt.
Opposition Leader Peter Dutton said it had "come too late, but we support the government's decision ultimately".
Albanese has continued urging humanitarian help during his four-day visit to Washington, and was cautious when asked about French President Emmanuel Macron's idea for a global coalition to fight Hamas.
"It's important that we avoid spillover on this issue, which would be bad for Israel, bad for the region," Albanese said.
"We want to see the people of Gaza have access to water and essentials. It's really important that innocent civilians be provided with that support. And our priority as well is providing support for Australians who are wanting to leave."
With Reuters
Cut through the noise of federal politics with news, views and expert analysis from Jacqueline Maley. Subscribers can sign up to our weekly Inside Politics newsletter here.
Natassia Chrysanthos
is the federal health reporter for The Sydney Morning Herald and The Age, based at Parliament House in Canberra.
Connect via Twitter or email.