Bullock opens door to rate rise as RBA assesses inflation threats
Reserve Bank governor Michele Bullock has left the door open to an interest rate rise on Melbourne Cup Day, but played down fears that new inflation figures showed there had been a step-up in price pressures that would require even more tightening of monetary policy.
Bullock, facing her first Senate estimates hearing as governor, said on Thursday morning the latest inflation report showed price pressures were a "little higher" than had been expected, but were not a surprise.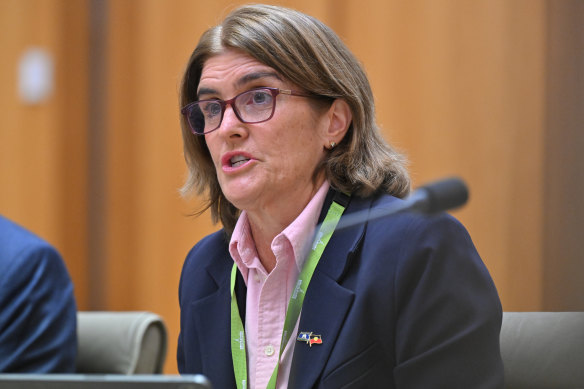 The Australian Bureau of Statistics consumer price index report yesterday showed both underlying and headline inflation up by 1.2 per cent over the September quarter. The annual rate of inflation stepped down from 6 per cent to 5.4 per cent.
Economists at the Commonwealth Bank and ANZ, who had been expecting the RBA to hold interest rates steady at its November meeting, now expect the cash rate to be increased a quarter percentage point to 4.35 per cent. Financial markets, which had put the chance of a rate rise at 20 per cent ahead of the inflation figures, now put the chance at 55 per cent.
But Bullock said the bank was still assessing the data to determine if the latest information would substantially change the Reserve's forecasts for the economy.
"It was pretty much where we thought it'd come out, given the information [we've received] since then, particularly the monthly CPI indicator, so we thought it was going to be about where it came out," she said.
"[There were] no surprises in the sense that some of the things that were important [in the inflation figures] were fuel prices. We all know that fuel prices have been rising. So it wasn't a surprise."
Her comments had an immediate impact on currency markets, with the Australian dollar falling slightly against the United States dollar, in a sign investors believe the bank may not lift rates next month.
Bullock said it appeared inflation pressures in the services sector were persistent, but prices for goods were starting to ease.
"We're looking at some of the more persistent parts of inflation [and] asking ourselves, 'Are there signs that those might be coming down in the future?'" she said.
"We've made that very clear, even though we haven't raised interest rates since our last interest rate rise in June, we've made it very clear that we might need to go again."
The governor said the bank had taken the decision to balance the time it took to reduce inflation back to the Reserve's 2-3 per cent target band against what might happen to the jobs market and the broader economy.
She said the longer inflation stayed outside the Reserve's target band, the more likely it was that people's expectations for inflation may change.
"But we've judged that on balance, we think we can manage to slow the economy enough without actually putting it in a recession and an unnecessary increase in unemployment, and that if we can do it in that timeframe, we think that we can get it back and we can keep inflation expectations under control," she said.
Last month, Treasurer Jim Chalmers reported a record $22.1 billion surplus for the last financial year, as the government's tax revenues were boosted by strong commodity prices and high inflation.
Bullock backed the federal government's decision to save most of its record surplus.
"I actually think that what they're doing at the moment is good enough," she said, adding government decisions and actions are taken into account in the central bank's forecasts.
"At the moment, the decision has been made to basically bank the revenues, and I think that's pretty positive."
Bullock said rents, which were a key contributor to inflation pressures, were likely to continue going up.
She said rents were likely to climb by 10 per cent, the highest rate since the late 1980s, in the next six months.
Demand in the rental market was being driven, in part, by strong immigration.
Shane Wright
– Shane is a senior economics correspondent for The Age and The Sydney Morning Herald.
Connect via Twitter or email.
Rachel Clun
is an economics correspondent for The Sydney Morning Herald and The Age, based at Parliament House in Canberra.
Connect via Twitter.