Canned fruit giant SPC asks Goulburn Valley locals to tip in $20 million
Fruit and vegetable processor SPC is asking Goulburn Valley residents to tip in $100,000 or more of their money to become a shareholder once again in the business that has been based in the Victorian region for over 100 years.
SPC, which stands for Shepparton Preserving Company, was founded in 1917 by Goulburn Valley farmers as a co-operative and is the company behind Ardmona tomatoes, canned fruits, baked beans and more. Its value suffered after being acquired by Coca-Cola Amatil in 2005, and SPC was sold to a private equity group called the Shepparton Partners Collective in mid-2019 for $40 million, a fraction of the $490 million that Coca-Cola paid for it.
In 2014, the Victorian government chipped in $22 million to keep the fruit processor operating, saving up to 2700 jobs, after the federal government refused any assistance.
Chairman Hussein Rifai said SPC was moving from "starting to walk" to "running marathons" after engineering a successful turnaround in the years since Coca-Cola's ownership, and it was now inviting locals to be part of that growth journey.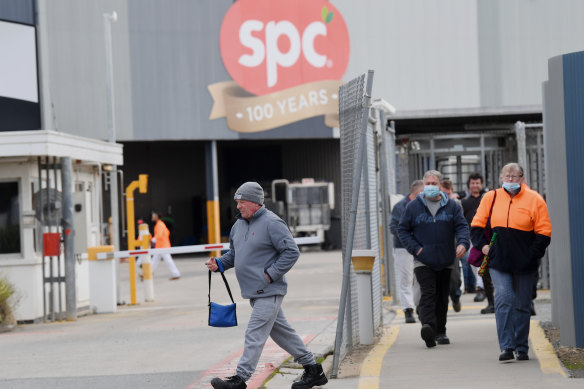 "We want to get the families of the Goulburn Valley to come back and invest in SPC because the natural alignment of their interests and SPC's interests," Rifai said. "We believe that will also bring more employment into the valley."
SPC is a major employer in the region, with about 470 permanent staff and as many as 1000 during peak seasonal periods. The business is hoping a $20 million capital raise exclusive to Goulburn Valley residents will boost the local economy and attract young people back to the region.
The company will host information sessions in Shepparton and Melbourne to take locals and their business advisers through SPC's growth plans and financial figures in greater detail. Only wholesale investors are permitted to take part, meaning there is a minimum investment of $100,000.
Shares are being offered at $1.17, a discount to the last traded price of $1.30. SPC delisted from the ASX in 2005.
The funds raised will go towards expanding product offerings and funding potential acquisition opportunities. Outside fruits and vegetables, SPC's portfolio encompasses ready-meal food brands, The Kuisine Company and frozen quesadilla brand Street Eats, a category that has grown 25 per cent in the past year.
The canned fruit company also has aspirations to push into beverages and plans to relaunch Helping Humans, its sparkling water product announced last year that failed to resonate strongly with customers.
"It wasn't really launched properly. We didn't really target the right clients, the right pricing point and everything else. Obviously, as much as everybody tries to do everything right, every now and then some things don't work out and you learn from it."
SPC also hopes to expand around the globe and is eyeing joint venture or acquisition opportunities around Spain, Portugal and the Asia-Pacific region.
SPC booked an $11.8 million loss in the 2021 financial year but swung to a profit of $24 million in 2022. Rifai said the figures of the most recent financial year had been heavily impacted by La Nina floods, which damaged 18,000 tonnes of tomatoes.
The business has made new executive appointments recently, appointing South African-born consumer goods executive Neil Brimacombe as chief executive. Earlier this month, former Asahi CEO Rob Iervasi joined the board of directors, which Rifai said would greatly assist with SPC's mergers and acquisition goals and push into the beverages sector.
Regarding the capital raise, Rifai said there might be apprehension among Goulburn Valley locals who may have had a negative experience with SPC under the Coca-Cola ownership, but he said the business was prepared to "put our money where our mouth is".
"My children's money is in there, just like you. I've got more to lose than anyone else," said the chairman, who is a shareholder through his investment firm Perma Funds Management, which owns 58 per cent of SPC.
"Get your ownership back. Be part of the success of this business because the success of the business means success of the valley. It has meant that for 100 years, and it will continue to be that."
Jessica Yun
is a business reporter for The Sydney Morning Herald and The Age covering food, beverages and agribusiness.
Connect via Twitter or email.