Chinese gangsters accused of laundering $228m through business spruiked by ex-minister
A transnational crime syndicate is accused of laundering $228 million in dirty funds and tainted cryptocurrency via a money moving business spruiked by a former Howard government minister and allegedly secretly controlled by Chinese gangsters.
On Wednesday morning, Australian Federal Police officers from Operation Avarus-Nightwolf swooped on seven suspected Melbourne members of what agents called the "Long River" – an Australia wide crime syndicate – accusing them of serious financial crime.
Police suspect the syndicate laundered funds via the Changjiang remittance empire, which the crime group allegedly controlled and which was also used by unwitting members of the Chinese-Australian community to send billions of dollars abroad.
Operation Avarus-Nightwolf is significant not only due to the amount of the funds allegedly laundered but the premise that underpins the police case: that a Chinese criminal organisation was brazen enough to set up an Australian government licensed international money moving service, with dozens of shopfronts across Australia, and recruit unwitting former Howard government immigration minister Gary Hardgrave as a spruiker in 2022.
Federal police Eastern Command Assistant Commissioner Stephen Dametto said in a statement that the "alleged syndicate was operating in plain sight with shiny shopfronts across the country", noting that syndicate members had "purchased false passports for $200,000 each" to allow them to flee Australia if they suspected law enforcement attention.
The 14-month AFP operation involves allegations that the Long River crime syndicate moved $228 million in dirty funds between 2020 and 2023. Police have also moved to restrain more than $50 million in luxury assets purchased by some of the seven suspects arrested on Wednesday, including a $10 million property in Melbourne's eastern suburbs.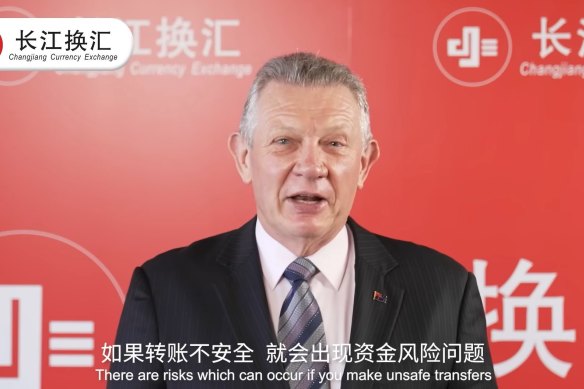 There is no suggestion Hardgrave is involved in any wrongdoing, is a police suspect or ever suspected Changjiang was involved in money laundering.
In a statement provided to the Australian Financial Review on Wednesday, Hardgrave said: "I was engaged to help spruik the business. I'm not involved in the day-to-day operations of the company."
Police are alleging the Long River syndicate instructed its organised crime customers on how to disguise the movement of suspected dirty funds by using false invoices and other cover stories when sending funds to and from China, Australia and other destinations via Changjiang remitters.
Law enforcement intelligence briefings dated between 2017 and 2021 describe how Changjiang linked remittance businesses gained licences from AUSTRAC – Australia's anti-money laundering agency – enabling them to move vast sums of money from as early as 2013.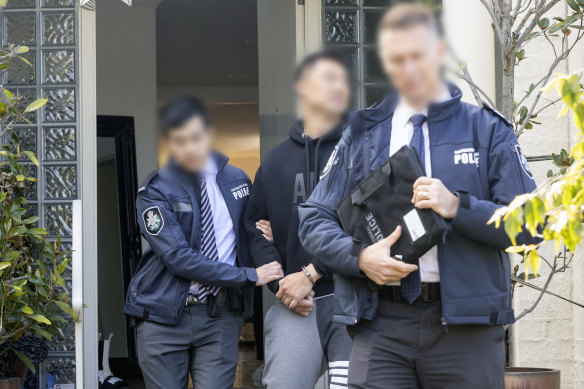 The Avarus-Nightwolf arrests, along with a February AFP operation codenamed Midas and which has so far restrained assets in NSW worth at least $200 million, highlights the scale of Australia's money laundering problem.
It underscores the challenge facing police as they combat a vast sea of dirty funds smuggled out of China in breach of Beijing's strict capital flight laws or that have been generated via suspected fraud, corruption or drug trafficking.
The latest arrests also raise a question being increasingly asked by Western officials: what is the role of the Chinese Communist Party in supporting or turning a blind eye to dirty money movement from China to the West?
A senior NSW law enforcement official, who was interviewed by this masthead about Chinese money laundering, said there was a reluctance to openly discuss the true suspected scale of the problem or the Chinese government's apparent failure to tackle it.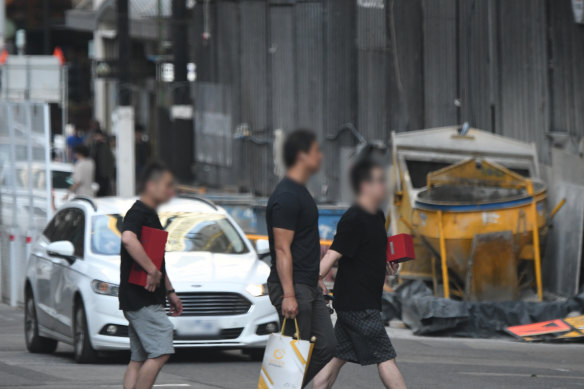 "It is just out of control. It is a huge international issue and there are overseas state actors involved," the official said a fortnight ago. "People pretend that this doesn't impact on the cost of living and housing, but it does. We [state and federal agencies] pick off some players but much more resourcing and legislative change is needed."
This masthead can also reveal that historical federal police and AUSTRAC intelligence describe how a network of Changjiang-linked money remitters were moving hundreds of millions of dollars every year. One briefing document from 2020 states "$1.26 billion [was moved] ... between January and September 2020".
In late 2020, the Australian Criminal Intelligence Commission also warned all state and federal police agencies that Changjiang had "become significantly more active in the suspected money laundering activities of the Chen MLO [money laundering organisation]."
The Chen MLO has previously been assessed by the Australian Criminal Intelligence Commission as posing a grave risk to national security and accused in intelligence briefings of moving funds for fugitive drug boss Hakan Ayik and the notorious Khanani Middle Eastern crime syndicate.
Three years earlier, in 2017, AUSTRAC intelligence warned that suspected crime bosses and Chinese high rollers were cleaning and smuggling dirty money they had gambled at Australian casinos via a Changjiang linked remittance business in Melbourne. The business shares the same Hong Kong address as several Changjiang remittance companies, but carries a different name.
An AUSTRAC report from May 2017 stated that some of the remittance company's customers included Melbourne businessman Stavro D'Amore, who is facing money laundering charges and is an associate of Mick Gatto, and Ming Chai, the cousin of Chinese President Xi Jinping.
Changjiang marketed itself to Australia's Chinese community as providing a safe and reliable way to send funds between China and Australia.
In 2022, it recruited Hardgrave, who had been the immigration minister under prime minister John Howard. In one video the company posted on social media, Hardgrave described Changjiang as a firm with "with watertight security processes in place" that had established "multiple layers of due diligence".
In its media statement, the AFP described how Changjiang's decision to expand its money moving shopfronts in Sydney during the COVID lockdown was among the factors that prompted federal agents to concentrate their efforts on the business.
"While most of Sydney was a ghost town, alarm bells went off among our money laundering investigators when they noticed Changjiang operating two new shopfronts in the heart of Sydney," Assistant Commissioner Dametto said.
Police suspect Changjiang was set up by Chinese-Australian money launderers who intermingled the proceeds of crime with legitimate fund transfers totalling at least $10 billion dollars over three years.
"While most of these funds were from customers engaged in lawful actions, the AFP will allege the company facilitated a system for organised criminals to secretly transfer unlawfully-obtained money … including from cyber-enabled scams, the trafficking of illicit goods and violent crimes," the AFP said in a statement.
Police also allege that some of the money moved by Changjiang was stolen during a $100 million cyber scam that was shut down by the AFP and US Secret Service last year and has led to the arrest of seven people.
In February, the federal police investigators and forensic accountants who led Operation Avarus-Nightwolf separately dismantled an alleged Chinese-Australian money laundering organisation that amassed a blue-chip property portfolio comprised of Sydney mansions, a luxury city building and hundreds of acres of land near Sydney's second airport.
In the Midas operation, the AFP seized properties and luxury assets worth at least $200 million and arrested and charged nine suspects, including two alleged Chinese-Australian gangsters in Sydney with a combined personal fortune estimated at more than $1 billion.
Money remitters including big names such as Western Union as well as lesser known companies such as Changjiang are commonly used by migrant communities to transfer funds quickly and cheaply to their families and businesses abroad.
In 2005, Australian authorities conducted the first major investigation targeting the remittance sector, with an operation codenamed Gordian arresting multiple Vietnamese remitters.
Since then, the Australian remittance industry has grown exponentially along with the influx of money from China and the sophistication of money launderers who seek to use technology to evade detection and co-mingle dirty money within the vast amounts of legitimate funds passing through the remittance sector.
Two senior law enforcement sources who recently briefed this masthead said anti-money laundering agency AUSTRAC has spent months pushing Treasury to strengthen the vetting and licensing of remittance providers amid fears criminal organisations can too easily register money moving businesses.
"Do we shut down the remittance sector? Or do we require more stringent entry requirements to be a remitter?" one source said.
The arrests on Wednesday will also ramp up pressure on the federal government to introduce long-stalled "Tranche 2" laws. The laws would force accountants, real estate agents and lawyers to face the same obligations as bankers and casinos to report suspected money laundering.
Get the day's breaking news, entertainment ideas and a long read to enjoy. Sign up to receive our Evening Edition newsletter.
Nick McKenzie
is an Age investigative journalist who has twice been named the Graham Perkin Australian Journalist of the Year. A winner of 14 Walkley Awards, he investigates politics, business, foreign affairs, human rights and criminal justice.
Connect via email.