'Blatant' violation: Donald Trump fined $US10,000 for violating gag order
By
Jack Queen

and

Luc Cohen
New York: Donald Trump was fined $US10,000 ($15,900) on Wednesday after the New York judge overseeing his civil fraud trial said the former US president for a second time violated a gag order barring him from disparaging court staff.
Justice Arthur Engoron had imposed the gag order on October 3 after Trump shared on social media a photo of the judge's top clerk posing with US Senate Majority leader Chuck Schumer, a Democrat, and falsely called her Schumer's "girlfriend".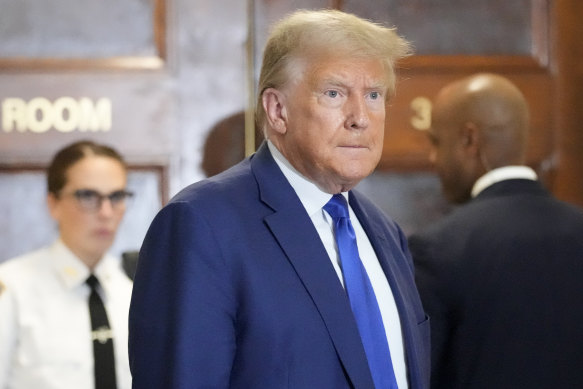 During a trial break on Wednesday in the civil lawsuit brought by New York Attorney-General Letitia James concerning Trump's business practices, Trump told reporters, "This judge is a very partisan judge, with a person who's very partisan sitting alongside of him, perhaps even much more partisan than he is."
Engoron, surmising that Trump was referring to his clerk, called the comments a "blatant" violation of the gag order.
Trump's comments came as Michael Cohen, his onetime lawyer and fixer, testified for a second day against his former boss.
Before being fined, Trump briefly took the witness stand and told the judge he was referring to "you and Cohen" during his hallway remarks. The judge rejected the idea, echoed by Trump's lawyer Christopher Kise, that the "partisan" person who Trump mentioned was Cohen.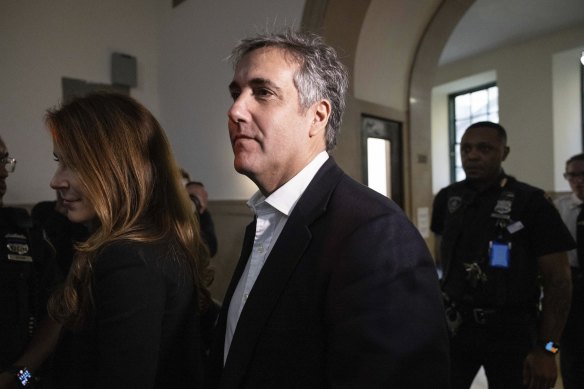 "The idea that that statement would refer to the witness, that doesn't make sense to me," Engoron said. "Don't do it again or it will be worse."
Engoron's clerk has been sitting next to the judge during the trial, which is standard practice in a New York state court.
Alina Habba, one of Trump's lawyers, told Engoron she saw the clerk appear to roll her eyes while Cohen was testifying, and that this was "completely inappropriate".
On October 20, Engoron fined Trump $5000 after finding he had not taken down a post disparaging the clerk, and warned that future transgressions could bring "far more severe" sanctions including jail. In originally imposing the gag order, Engoron said comments directed against his staff were "unacceptable, inappropriate and will not be tolerated under any circumstances".
Trump, the frontrunner for the Republican nomination to challenge Democratic President Joe Biden in the 2024 US election, walked out of the courtroom after being fined.
Cohen defends credibility
The civil trial concerns allegations that Trump and his family business, the Trump Organisation, unlawfully manipulated asset values and his net worth to dupe lenders and insurers. The case could break up Trump's business empire.
On Tuesday, Cohen came face-to-face with Trump for the first time in five years, testifying that Trump "arbitrarily" inflated the value of his real estate assets to secure favourable insurance premiums. Cohen also testified on Tuesday that his former boss doctored financial statements so property values would match "whatever number Mr. Trump told us."
Since cutting ties with Trump and becoming one of his fiercest critics, Cohen has written two books and created a political podcast.
Under a tense cross-examination by Habba on Wednesday, Cohen acknowledged having a financial incentive to criticise his former boss, but defended his credibility. He rejected Habba's contentions that he had "made a career" out of attacking Trump, and embellished his attacks for personal gain.
"The more outrageous your stories are about president Trump, the more money you make," Habba said. "Is that accurate, Mr. Cohen?"
"No," Cohen responded emphatically.
Trump has denied wrongdoing in the case and defended the valuations of his properties. Trump separately has pleaded not guilty in four criminal cases this year.
Cohen's testimony could bolster the case being made by the attorney-general's team, but his admitted record of deceit could undermine his credibility before Engoron, who alone will decide the outcome of the bench trial.
In 2018, Cohen pleaded guilty to tax fraud, campaign violations and perjury and was sentenced to three years in prison.
Before the trial began on October 2, Engoron found that Trump fraudulently inflated his net worth, and ordered that companies that control crown jewels of his real estate portfolio, including Trump Tower in Manhattan, be dissolved. That ruling is on hold while Trump appeals.
The trial largely concerns damages. James wants at least $US250 million ($400 million) in fines, a permanent ban against Trump and his sons Donald Jr and Eric from running businesses in New York and a five-year commercial real estate ban against Trump and the Trump Organisation.
Reuters
Get a note directly from our foreign correspondents on what's making headlines around the world. Sign up for the weekly What in the World newsletter here.