Even NBA champions have to ask for permission. The story behind Ian Clark's special number
Look through many of Ian Clark's career highlights and the number 21 was proudly sitting on his chest.
When he won an NBA championship alongside Steph Curry and Kevin Durant with the Golden State Warriors in 2016-2017 he had his "21″ flying proudly and same for his star turn with the Sydney Kings in their breakthrough title in 2021-2022.
But he didn't know whether his favourite two digits would join him at Melbourne United until shortly after he landed.
Soon after being greeted by club officials and welcomed to his new home, Clark was put on the phone with Melbourne Tigers great Lanard Copeland to ask a special favour.
"I was with Nick [Truelson, United chief executive] when I first landed and paying respect to the guys that played before matters to me," Clark said.
"I know that the 21 is retired with the Melbourne Tigers, so being under that same umbrella as United, I wanted to make sure that it was OK to wear it.
"So we made a phone call and he [Copeland] was more than happy to allow me to wear the jersey and I'm grateful that he did."
Melbourne United became a separate entity when it shed the Melbourne Tigers name back in 2014. The Tigers moniker still exists at junior and state league levels.
United proudly but separately show the banners and retired jerseys of the Tigers NBL franchise at their home games.
Technically, nothing was stopping players wearing the retired numbers of former Tigers players, but United has made a concerted effort to celebrate the Tigers history including having players call and ask for permission for to use retired numbers.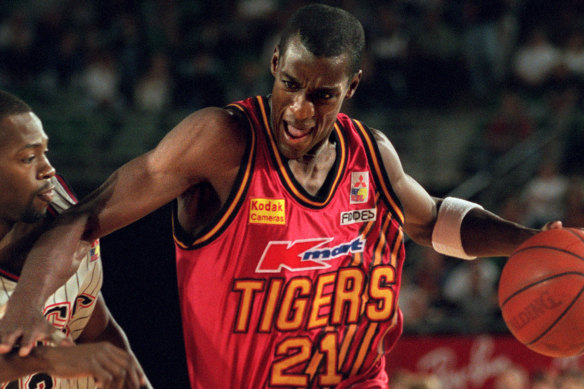 Matthew Dellavedova did a similar thing when he wanted to wear his number eight singlet which was retired by the Tigers to honour Ray Gordon's career.
Copeland was surprised to get the call from Clark but was quick to give his approval.
"Straight away I had no problem with it - that number is meant to be worn," Copeland said.
"I love the fact they retired it but Ian has won a championship here, won a championship in America and he carries himself like a true professional.
"He's one of those guys who helps the younger kids, every time you see him on court, he is talking to someone, helping them improve their game.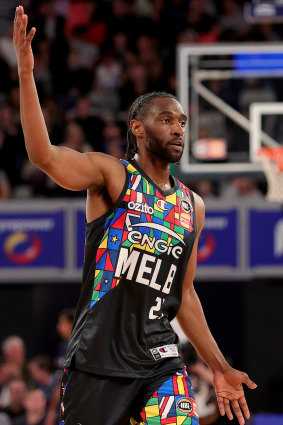 "I'm just happy to know it is out there again and my kids love it, they love the fact that number is still running around."
Clark admits he was preparing for the possibility of wearing something else, as he had done in a couple of his NBA stops.
He makes me feel proud he is wearing it.

NBL great Lanard Copeland
"If Lanard said no, I would have been perfectly fine with it," Clark said.
"I was kind of leaning to that side [that he would wear another number] because I didn't want to disrespect what he had done for the club and in his career.
"I had a backup just in case but he was super supportive and more than happy for me to wear it."
The importance of the 21 jersey is two-fold for Clark.
"Nobody has ever asked me that before," Clark said.
"It's about how I play, being a combo-guard, being a two [shooting guard] and a one [point guard].
"The number three is also big for me as it's my birth month, I'm born in March, so those things resonated with me when I was picking the number.
"It started in high school. I started as double zero in my freshman year because I was a small, skinny shooter and they said shooters had to wear double zero - so I went with it.
"In my sophomore year, I switched to 21 and been with it ever since."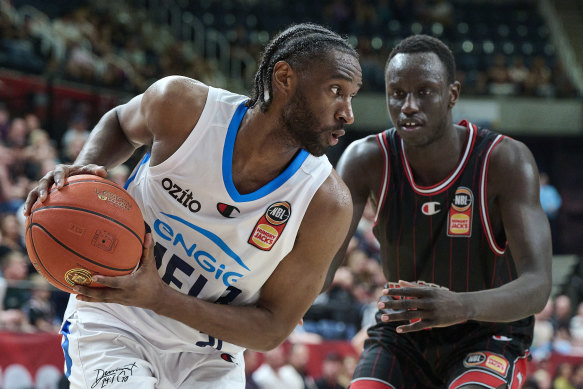 Clark, 32, has been a revelation at United in their 6-1 [win-loss] start to the season averaging 14.6 points and giving the team a class performer off the bench where he has often finished quarters or played through difficult passages of the game.
He and fellow shooting guard Chris Goulding have already formed a bond while he has also stepped in to help backup at point guard for Shea Ili.
What stands out most is Clark's desire to win games. He is an NBA champion, but he is not a player who has finished winning trophies.
"The relationship he has developed with CG is really important and the way those two celebrate for each other and the respect they have shown each other's game," United coach Dean Vickerman said.
"Ian's willingness to do whatever it takes to win - he will say let me guard the opposition's best guy, free me up and put me in an on-ball [screen and roll] or let me space.
"He is so versatile in how he attacks the game and so coachable and such a selfless player.
"Start him, bring him off the bench - he's still going to play in a similar way and be a highly efficient offensive talent."
This is Clark's third NBL season but his first full Australian season having joined Sydney and, last season, Adelaide 36ers, as a replacement import mid-season.
Clark, who played six NBA seasons, lives in the Bay Area [San Francisco and Oakland cities] when he is back in the US and remains tight with several of his championship winning teammates at the Warriors.
While he loves the competitiveness of the NBL, he also keeps close watch on his former team as they began their new season on Wednesday AEDT.
"I think everybody has that goal of still playing in the NBA," Clark said.
"I'm not saying that is completely out of my mind but, I know where I am right now and I'm focused on that.
"Being able to see those still go out and compete, I still see a few of them when I'm back home, so we've got a connection with those guys.
"I hope it's a healthy and safe season for them."
Delly to miss two more games, targets next round for return
Roy Ward
Melbourne United star Matthew Dellavedova is on track to return next round but will miss two more games.
Dellavedova's recovery from a concussion is progressing well with Dellavedova going through an individual workout on Wednesday after being cleared to return to the court.
The 33-year-old has a history of head knocks from his NBA career, so United were concerned when he was accidentally struck in the head by the falling leg of Brisbane player Sam McDaniel in United's win over Brisbane on 15.
United won't rush Dellavedova back and want him to complete more training this week and next in the hope he is all good to face Perth Wildcats at John Cain Arena on November 6 in the club's annual Melbourne Cup eve game.
"He's got through individual workouts, done all the concussion tests and got tick-offs but hasn't got into contact yet," Melbourne coach Dean Vickerman said.
"So we think he's probably another week away."
Vickerman will coach his 300th NBL game on Friday night.
United's main training day was Wednesday as they prepare to play Tasmania JackJumpers in Hobart on Friday and then host Illawarra Hawks at John Cain Arena this Sunday at 2pm.
Big man Rob Loe, who was originally signed as an injury replacement for Jo Lual-Acuil jnr will suit up in Friday's game in Tasmania in place of Dellavedova.
Dellavedova is among the candidates for the NBL's most valuable player award after his hot start to the season with United making a 6-1 [win-loss] to the season.
Tasmania begin round five in second place and are the only team to have beaten United this season.
JackJumpers import point guard Jordan Crawford has emerged as another potential match-winner after scoring a game-high 32 points in a win over reigning-champions Sydney Kings in Sydney last Sunday, so Dellavedova's defence will be missed with Shea Ili and Ian Clark likely to take Crawford.
"[The aim is] to get him off the three-point line and get him closer to the paint and make him have to make tougher shots there," Vickerman said.
"But he's quick and his pull-back is a little like Bryce [Cotton]; you think he's going downhill but he pulls back and makes room for himself.
"I think we've done a good job scouting so far, so hopefully we can put it on the floor."