Hawthorn are facing a significant financial settlement with four-time premiership coach Alastair Clarkson, while he and his former football boss Chris Fagan also want public apologies from the club over the impact of the cultural safety review on their professional and private lives.
As the AFL winds up its investigation of the Hawks' handling of the review, also known as the Binmada report, into grievances from First Nations players and their families at the club between 2008 and 2016, three sources familiar with the matter expected the club would be instructed by the AFL to "make good" with former Indigenous players and staff, as well as with Clarkson, Fagan, ex-welfare manager Jason Burt, and potentially former chairman, now AFL commissioner, Andrew Newbold.

The combined compensation bill for Clarkson, Fagan and Burt could exceed $1 million, the sources said, for damage to their reputations and the costs they incurred.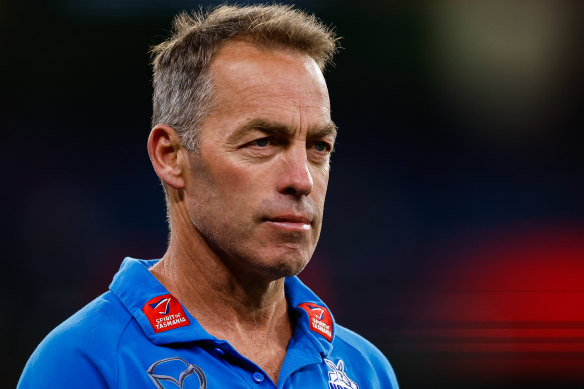 Two other people close to the investigation, who did not want to be quoted due to the sensitivity of the negotiation, said Hawthorn's willingness to financially compensate their former senior football staffers and Indigenous families would mitigate any potential financial penalty imposed upon the club over its handling of the cultural safety review.
However, the prospect of significant financial compensation and apologies was slammed by former president Jeff Kennett, who said: "I'm not going to be shamed into apologising and I have to say this is not a great start for the AFL administration.
"It would be totally wrong for the AFL to penalise Hawthorn and it would be totally wrong for the club to use members' funds to pay for something it did not do. This is not Hawthorn's error. This is not Hawthorn's fault."
Former Richmond player and Indigenous consultant Phil Egan was brought in to interview past and present First Nations players and their partners about cultural safety at Hawthorn after former champion Cyril Rioli and his wife Shannyn detailed the reasons for their estrangement from the club to The Age in April 2022.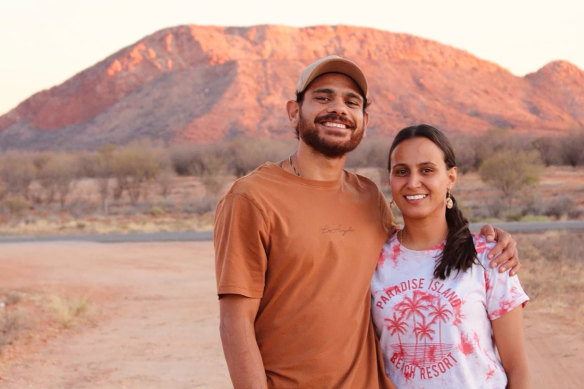 Details from the Egan review were published by the ABC last September, prompting the AFL to investigate.
The league cleared Clarkson, Fagan and Burt of any wrongdoing under the AFL's rules in May this year, and announced a separate investigation into Hawthorn's commissioning and oversight of the Binmada report.
AFL general counsel Stephen Meade's review has involved hundreds of emails between Hawthorn officials, directors, Egan and First Nations families.
Egan declined to comment on his or Hawthorn's handling of the cultural safety review when he was contacted on Tuesday.
Fagan, who has since coached Brisbane Lions to a grand final, and Burt, who now heads Caulfield Grammar's coaching and high performance, took a leave of absence from their jobs and still face significant legal expenses. However, the damage to Clarkson's reputation was compounded by the severity of the claims made against him including the allegation that he pressured a player and his partner to terminate a pregnancy.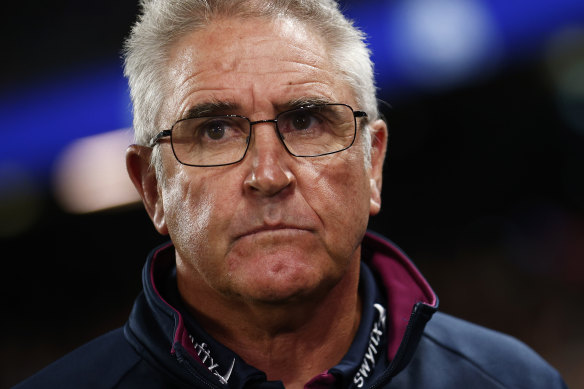 The mental toll also saw Clarkson face significant medical expenses. Not only was his North Melbourne coaching job delayed but he missed almost three months of football after stepping away from the game in mid-May due to mental health issues.
Clarkson remains firm in his belief that North would have retained No. 1 draft pick Jason Horne-Francis had the racism scandal not broken. Clarkson also cancelled a series of scheduled lucrative public appearances in 2022 grand final week following the ABC report which followed the Hawthorn Egan investigation.
Clarkson, Fagan and Burt have always denied any wrongdoing.
Hawthorn president Andrew Gowers confirmed the club was preparing to make amends with Clarkson, Fagan and Burt. "That's always been my intention," he said. Of any potential compensation or apology directed to Newbold, Gowers said: "I don't think it's appropriate for us to delve there."
He added that it was also the club's intention to make amends with the former Indigenous players and their partners involved in the report.
When Gowers was asked whether governance failures had occurred in the handling of the Binmada report, he said: "I can't go into particulars and I won't."
When asked about any compensation that would be paid by the club, Gowers responded:
"What that (the compensation) looks like is tricky and it's complex but I'm confident that we will reach a resolution and that is adequate and acceptable."
Gowers would not be drawn on the specifics of a potential apology to Clarkson and Fagan.
The AFL has not yet communicated its findings to Hawthorn.
But Gowers' predecessor Kennett, stressing he now had no role at the club, said he was horrified at the prospect of financial compensation to Clarkson, Fagan and Burt saying the club had done nothing wrong and that any payments or apologies "would open the club up to further claims".
"Hawthorn did everything it should have done as a result of an initial grievance. Phil Egan was appointed by our director Ian Silk who chaired the committee involved. He conducted a series of interviews and hence the report came in and was handed to the AFL's integrity team.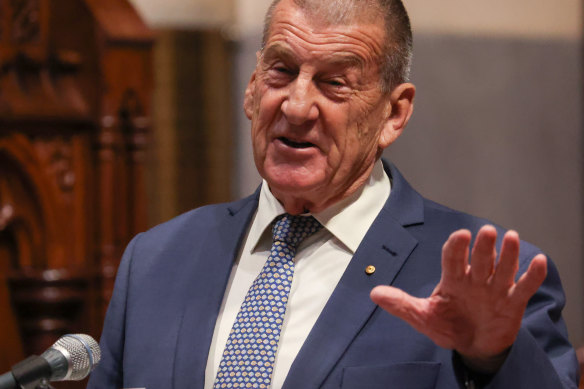 "The fact that the story was leaked was very hard on the men who were named but it was not Hawthorn's fault. Gillon (McLachlan) announced months ago that there was no case to answer for the coaches or the families and we were of the understanding that was the end of it. We had done the right thing in trying to establish the truth."
Although six current Hawthorn directors, including Ian Silk, remain on the board from the time the Egan report was commissioned, Gowers said that any legal exposure towards those directors was "not a concern" and not influencing the talks with the AFL.
"We are involved in productive discussions with the AFL and we've got the Human Rights Commission matter still alive and there is a series of people who were involved with us who have faced some challenges on both sides. Some are legal, some are medical.
"The situation is that these are people who worked for us, played for us and served us well. Alastair Clarkson is statistically our most successful ever coach and our football club is extraordinarily grateful for the energy and skill he brought to us as coach."
Former Hawthorn chief executive Justin Reeves, who quit the club in May citing the emotional toll of the saga, would not be drawn on the club's handling of the Binmada report. He said: "I can confirm I have had zero conversations with the AFL or anyone on this matter since I resigned. I have no idea of anything that's happened since."
North Melbourne president Sonja Hood said her club would not be seeking financial compensation from Hawthorn as a result of the toll taken on Clarkson and the subsequent fallout. "That's not what our club is about," said Hood, adding that North would be keen to work with the AFL and the clubs to establish guidelines around future similar scenarios.
The Meade investigation was established in May to determine whether the club should be charged with misconduct or bringing the game into disrepute. Gowers said at the time the club should not be sanctioned because it had acted in good faith. The current negotiation with the AFL could also be influenced by any outcome at the Human Rights Commission.
"What that (the compensation) looks like is tricky and it's complex but I'm confident that we will reach a resolution and that is adequate and acceptable."

Hawthorn president Andy Gowers
A hearing has been set for December 16 with former players Rioli, Carl Peterson and Jermaine Miller-Lewis and former club Indigenous liaison officer Leon Egan, scheduled to appear along with Rioli's wife Shannyn Ah Sam-Rioli and Miller-Lewis's wife Montanah.
AFL chief executive Andrew Dillon was contacted for comment.
Caroline Wilson
is a Walkley award-winning columnist and former chief football writer for The Age.
Connect via email.