'Frankly I'm nervous': Game of Thrones star daunted by new Australian role
The GoT star admits to "something a bit scary" inside him. So why is he so nervous about playing Scrooge in Melbourne?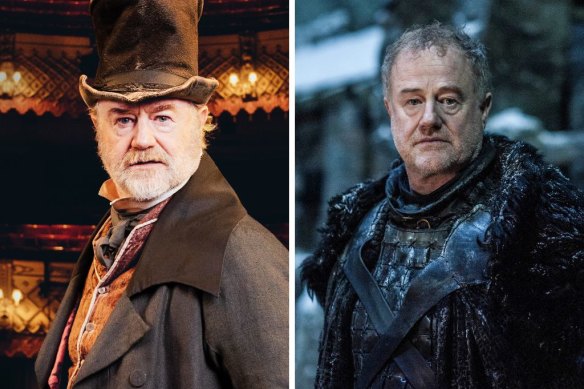 It all started with a car full of booze and a bear costume. Owen Teale, recently suspended from his sixth-form college for organising a riotous Christmas party for fellow students, was in need of a job.
"They held an investigation into the party and I was the first to be called in," says the 62-year-old Welsh actor best known as gimlet-eyed master-at-arms Ser Alliser Thorne in Game of Thrones. "They'd found the empty bottles and people were falling over drunk. I said, 'yeah, I did it. It was me. I borrowed my mother's car, loaded it up with booze and smuggled it in'."
Teale had no intention of joining his father at the limestone quarry that fed the steel works at Port Talbot. He wanted to escape South Wales, to find a bigger world. Which is when fate – or rather a kindly teacher called Mr Davies – intervened.
He suggested Teale might find work at Barry Island Pleasure Park, a fairground near Cardiff. "At the time, it was a rust bucket of a big wheel and one big dipper," recalls Teale. "But I went along and auditioned. I was hoping to be a magician's assistant or something like that, but they said 'you'd be great as the bear. Here's the costume'."
The role of Barry the Bear was deceptively hard. "His remit was to wander around the park greeting visitors, but you could only do an hour at a time because you sweated so much. I wore pyjamas under the costume to absorb the sweat, but it would fill the rubber hands. After a while, I'd get bored, sit on the big wheel and go round and round."
The sight of a disconsolate, sweaty bear riding the ferris wheel caught management's attention and Teale was sacked. At which point a couple of his co-workers – students from the Guildford School of Acting – suggested he audition at their alma mater. He was accepted, awarded a study grant and Barry the Bear got a ticket out of Wales.
"I was going nowhere really. If I hadn't met those two young women I don't know what would have happened," says Teale. "But there have been so many points in my career, moments of pure chance, when things went my way. And if you can survive the moments when things don't go your way, you can make it."
If you're not a diehard Game of Thrones fan, Teale's name may not be familiar. But his pale face, intense eyes and imposing physicality – he's 188cm in his socks – will be. The Welsh character actor is a Zelig-like figure whose frequent stage and screen appearances invariably guarantee two things: the tale will be well told and bad stuff is going to happen.
He's in Leeds when we speak, visiting his younger daughter Gracie, 21, who's studying art and design at the city's university. Eliza, 25, his other daughter with actor wife Sylvestra Le Touzel, is following in her parents' footsteps. His son, Ion, from his first marriage, recently made him a grandfather.
Earlier today, he was in Edinburgh shooting scenes for the second season of the supernatural TV thriller The Rig. His character Lars Hutton, an irascible bully and the man most likely to be chucked off the oil rig, has somehow made it back for the next instalment of the Amazon Prime drama.
Hutton, Thorne and Chief Inspector Philip Osborne, another textbook bully who first appeared in the opening season of the BBC police procedural Line of Duty, are just three of the menacing characters he's played in recent times. Peter Knox, a villainous sorcerer in A Discovery of Witches, the fantasy TV series based on books by Deborah Harkness, is another.
When he portrays Ebenezer Scrooge in an upcoming Melbourne production of Jack Thorne's award-winning adaptation of Dickens' A Christmas Carol, he'll summon the same forces to make the archetypal miser utterly convincing.
The truth is this: the avuncular man in the amber-coloured spectacles and leather jacket chatting to me on the line from Leeds is a master of darkness. When Ser Alliser Thorne drove a dagger into the heart of Game of Thrones' Byronic hero Jon Snow in the final episode of Season 5, he left the show's 10 million viewers in a profound state of shock.
"It's true, I have started to play a lot of dark characters," he says, smiling. "And at first it was a great challenge because I'm quite a sociable fellow."
So, how does he find that darkness? "It's a sense of nothingness. In all honesty, I'm not very good at being completely on my own," he explains. "I come alive when I'm with other people. So staying in hotel rooms away from my family isn't great and it doesn't get any easier. There's something empty and a bit scary within me when I'm not with people. I think that's where that stuff comes from."
His ability to tap into the void served him well as he prepared to enact the murder of Snow, played by Kit Harington. "There was Kit … who was so beautiful. And he's such a lovely man. By connecting to this feeling of emptiness, of having nothing inside of me, I was able to look at him and everything he had - his looks, his grace - and feel pure hatred. For all of Ser Alliser's explanations [for the murder], deep down he just has a hatred of Jon Snow's popularity and gifts."
Like Iago, I suggest. "Yes," he says. "Very like Iago."
When Snow's death was broadcast, Teale braced himself for the fall-out. He imagined being confronted by irate Game of Thrones fans who would hate him for "killing the goodness". Instead, he was asked for endless selfies and impromptu recitations of Thorne catchphrases such as "For the Watch!" or "Bas-terd!"
Once, a drunk emerged from a restaurant and stumbled towards Teale brandishing a knife. The actor braced himself, but the man simply wanted "Ser Alliser" to hold the utensil to his throat for a photo. On a visit to Uluru with his family, the tour guide caught sight of his face and exclaimed, "what are you doing here?" Says Teale, "He just kept staring at me and I realised it was an Alliser Thorne thing. I said, 'I'm not going to kill anyone, I'm just an actor'. But it clearly troubled him that this person who had committed this awful crime had suddenly appeared."
Teale has the grace to admit he enjoys this new level of celebrity. "People seem to realise that without the darkness of people like Ser Alliser, Jon Snow couldn't have shone as brightly as he did."
He was well into his 50s when he landed his highest profile role, but it would be wrong to think of Teale as a late starter. In 1989, not long out of drama school, he starred in the hit television adaptation of Catherine Cookson's romance The Fifteen Streets. The cast included Sean Bean, another young working-class actor, who went on to become a leading man in Hollywood before playing Ned Stark in Game of Thrones.
I ask Teale if he ever wishes he'd followed Bean's trajectory. "Oh god, yeah," he replies. "Absolutely. You instinctively think [playing leading men] will lead to feelings of success. But it never came my way. My cut of my jib wasn't quite right. It's about what your face does on screen I guess."
There have been opportunities to step into the spotlight over the years. When The Fifteen Streets attracted a massive TV audience in Britain, Teale was offered a lead role in a movie playing a bare knuckle fighter. But the financing fell through and he signed up for a four-year stint with the Royal Shakespeare Company instead.
Years later, a producer offered him the lead in a big film being shot in Britain, but the money men demanded an American star and William Hurt got the gig. When Teale won a Tony Award in 1997 for his performance in Ibsen's A Doll's House, he was told he needed to spend time in Hollywood wooing producers. He decided to fly home to his family in London instead.
"My wife was about to give birth, so I said 'I'm off'. I'm sure part of it was I just didn't believe that I was going to waltz into leading man roles in Hollywood."
And there it is, that ambivalence. Despite all the plaudits, the awards and the steady offers of work, you sense Teale has never been certain of his gifts. It's probably why he's so consistently good – complacency isn't in his nature.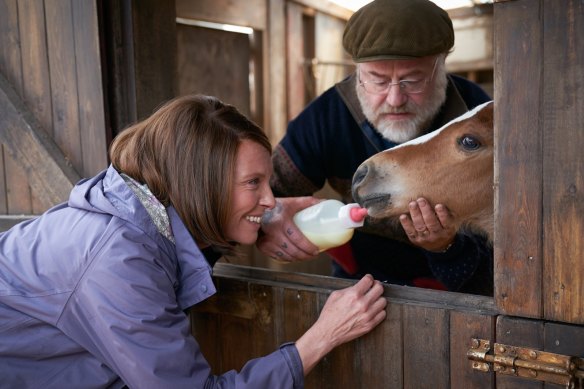 He's far better at recognising brilliance in others. For example, Toni Collette, who he worked with on Dream Horse, a 2020 movie about an unlikely champion racehorse. "Toni just raised my game. That's a huge talent, huge," he says, shaking his head in wonder. "I recently received an award from BAFTA for the film and part of me thinks they should give it to Toni."
He's happiest in a room full of actors working on a play, a film or a TV production. "What turns me on is the thought of collaborating with talented people. I'm very sociable with the rest of the company and fully intend to do that when I come to Melbourne."
Teale played Scrooge at London's Old Vic last year, so the role is familiar. But he doesn't regard it as an easy gig; he knows there's plenty more humbug to be extracted from the old miser's soul. "You've got a thousand people in the audience and 12 people on stage who have all turned up for a party and you're the party pooper," he says. "It's not the easiest thing in the world to maintain the character's gloom, because I find the mood infectious and the music is so brilliant.
"Frankly, I'm quite nervous. It's a new production, a new set of people. Nobody knows what's going to happen."

Owen Teale
"When I played him at The Old Vic, I never quite believed the epiphany," he says referring to the moment the ghosts finally convince Scrooge of the error of his ways. "I want to see someone who is completely broken, someone who's last fibre is dedicated to the belief that love will only get you hurt and you'll lose more than you'll gain." He pauses. "It shouldn't be an instant conversion; he doesn't become the life and soul of the party straight away. He has a lot of learning to do and portraying that is a huge challenge. Frankly, I'm quite nervous. It's a new production, a new set of people. Nobody knows what's going to happen."
His apprehension seems at odds with the rave reviews his work invariably receives. But then you remember Barry the Bear and the world he left behind all those years ago. When he was accepted at drama school, his aunt Maisie told him, "'If you leave it too late you'll never get a job at the steel works when you come back'." To her, his dream was an indulgence, a hobby at best.
He's been "indulging" himself for some 40 years now, but one suspects Teale will never take success for granted. An hour before our interview his agent called to tell him he'd been offered a part in a movie starting early next year. "I thought 'wow!' I'm still not really used to it," he says.
A Christmas Carol is at Melbourne's Comedy Theatre, November 12 – December 31. http://christmascarolaustralia.com.au