French President Emmanuel Macron has said a "massive" Israeli ground operation in Gaza would be a mistake since it would put civilian populations in danger and wouldn't provide long-term security for Israel.
Macron said that such an operation wouldn't abide by international humanitarian law. He was speaking to reporters in Cairo after first visiting Israel during a two-day trip to the Middle East.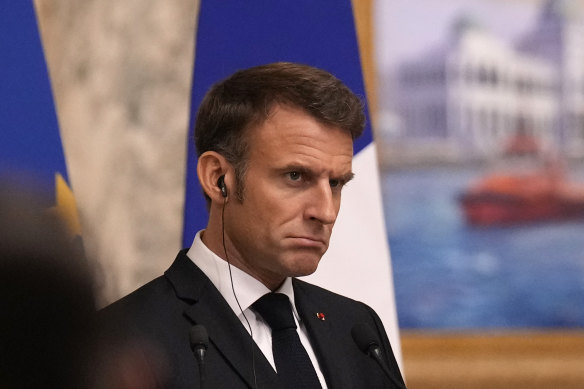 His comments came after he sought to promote – with little success – the creation of an international coalition to fight the armed Palestinian group Hamas that rules the Gaza Strip.
Leaders he met in Israel, the West Bank, Jordan and Egypt did not publicly address the issue.
The first response to the devastating Israel-Hamas war is "the fight against terrorism", Macron said on Wednesday after his meeting with Egyptian President Abdel Fattah el-Sisi.
"The right response is to co-operate, to draw lessons from the international coalition [that intervened in Iraq and Syria] against the Islamic State group," he added.
Macron first made the proposal on Tuesday after his meeting with Israel Prime Minister Benjamin Netanyahu, mentioning the idea of a "regional and international coalition" against Hamas.
Netanyahu did not specifically comment on the French offer.
US officials said they were aware of Macron's proposal and that it had been a subject of informal discussion within the administration and with other countries.
However, the officials said it had not reached the point of serious consideration mainly because there did not yet appear to be any Arab interest in creating such a force.
AP, Bloomberg