Judge ticks off Amorosi mother's lawyer over 'outrageous' late move
Justice Steven Moore bears more than a passing resemblance to Guy Pearce, and typically presides over his courtroom with a similarly Zen-like demeanour.
But on the final day of the trial that has pitted singer Vanessa Amorosi against her mother, Joyleen Robinson, in a bitter property dispute, the Supreme Court judge was frequently driven to exasperation as Robinson's legal team tried yet again to shift the legal ground of their client's case.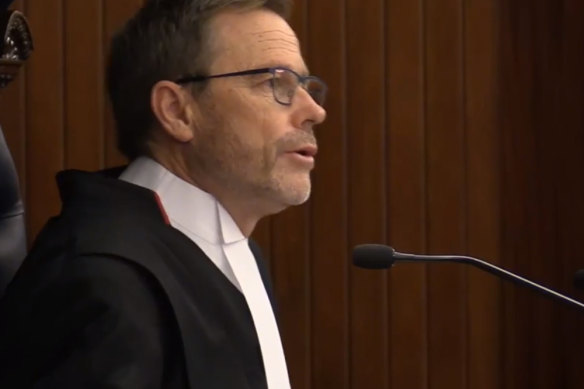 "The defendants have sought leave to further amend an already amended [pleading]," Moore said late on the fifth and final day of the trial.
Barrister Daniel Harrison, for Robinson, sought leave to supplant his client's contention that there was a 2001 "kitchen agreement" granting her ownership of a house in Narre Warren with a different conversation, in a different kitchen in a different house 11 years later.
That conversation – in which it was alleged that a house owned by Robinson and her husband, Peter, was to be sold at Amorosi's request in order to reduce the debt on her US home – was first mentioned in evidence by Peter last week.
The judge rejected that application on a number of grounds, including that it had come "extraordinarily late" and that Harrison was not able to explicitly articulate the amendment he sought to make.
"It is unsatisfactory that it is left in such a vague state," he noted.
Harrison had also infuriated the judge at the start of the day by introducing "substantial revisions" to the defence just half an hour before the trial resumed.
"It's just outrageous," the judge said, addressing the experienced property lawyer as if he were a naughty schoolboy. "Mr Harrison, what do you have to say for yourself? This is an entirely unsatisfactory state of affairs."
Much of the day was consumed with case law and debate over what the applicable rate of interest should be if the judge found Amorosi was the rightful owner of the Narre Warren property but that Robinson should be repaid the money from the sale of the other home, proceeds of which had paid down Amorosi's debts.
That task was made more difficult by the fact a promised schedule of applicable interest rates over the relevant years was found wanting.
"I'm going to raise Your Honour's ire further," Harrison conceded, "by saying the numbers it contains are erroneous, but the principles apply."
Asked when an updated and correct schedule might be supplied, Harrison at first suggested by 4pm the following day.
"Don't overreach on the assurances," the judge responded, "because I don't want to be disappointed again."
Harrison revised the delivery date to 4pm next Wednesday.
The disputed Narre Warren North property, which includes a large ranch house and eight hectares of land, was bought for $650,000 in 2001, but is now worth substantially more. Amorosi lived there with her mother, stepfather and siblings from 2001 to 2005, and the Robinsons continued to live there after she moved to another house in Officer, and later to the US, where she has lived since 2011.
Amorosi was not in court on Wednesday.