Malaysian PM doubles down on refusal to condemn Hamas
Singapore: Malaysian Prime Minister Anwar Ibrahim says he has received threats from Western countries after resisting pressure to denounce Hamas and pledging to continue relations with the proscribed terrorist group following its attacks against Israel.
Anwar's comments, made at rally in Kuala Lumpur attended by more than 15,000 people, come as a leading de-radicalisation expert in the South-East Asian nation warned of conversations on social media where Malaysians have discussed travelling to the Middle East to fight.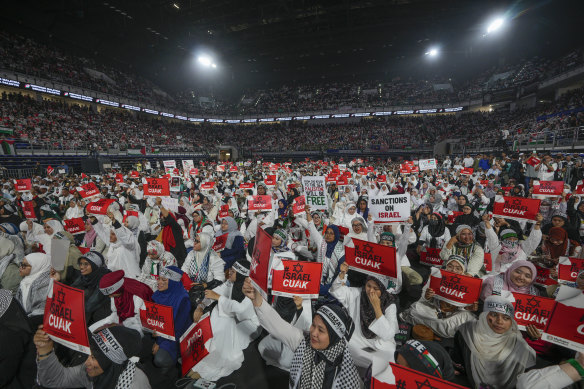 Long a staunch advocate for Palestinian justice, the Malaysian government has become one of the loudest voices against Israel since Hamas' murderous onslaught on October 7 triggered a new war. It does not have formal diplomatic relations with Israel.
Anwar told parliament last week he had rejected efforts by Western countries to compel Malaysia to condemn Hamas and vowed to maintain dialogue with the Islamist organisation. Anwar said later that he had spoken on the phone with Hamas political chief Ismail Haniyeh, who is based in Qatar.
On Tuesday night, the prime minister fronted a government-sponsored Palestinian solidarity event, the latest of a series of mass gatherings at which former leaders Mahathir Mohamad and Muhyiddin Yassin have also appeared.
"I have received much criticism, threats … I say 'you've picked the wrong side'," Anwar told the crowd, local media reported. "Malaysia is a free and independent country. Malaysia will remain a sovereign nation that upholds freedom and the freedom of the Palestinian people."
The 76-year-old reportedly added: "As long as I have the trust of the people, I will not succumb to such threats". Anwar also took aim at Israel over its retaliatory bombardment of the Gaza Strip, which Hamas controls.
"It is a level of insanity to allow people to be butchered, babies to be killed, hospitals to be bombed, and schools to be destroyed, these are acts of barbarism. We observe that when Israel invades Palestine, there is silence. What kind of justice is this? It's the law of the jungle," he said.
Anwar's office and the Malaysian Ministry of Foreign Affairs have been contacted about the alleged threats received by the prime minister. On Wednesday, he was quoted by Malaysian media as saying the threats had come from European MPs, but wouldn't elaborate.
James Chin, a Malaysian expert at the University of Tasmania, said it suggested the Anwar government had likely been put on notice about potential economic ramifications of its perceived support for Hamas.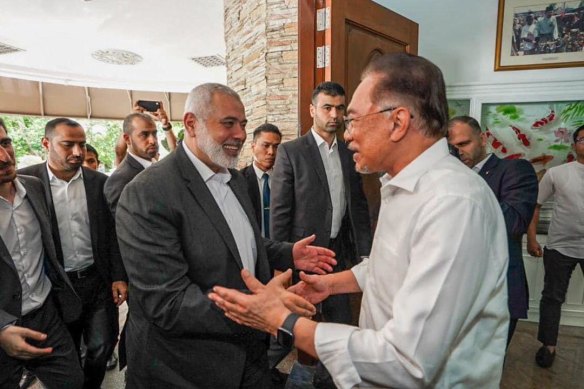 "The threat is not to isolate Malaysia but to harm its economy," he said.
"For example, it could be much harder for Malaysia to negotiate further trade deals with the European Union or the Americans. They could also make it harder for Malaysia to export to these countries and for Malaysia to receive investments from these countries."
There are domestic political considerations for Anwar in throwing the weight of Muslim-majority Malaysia firmly behind the Palestinian cause. The hardline Malaysian Islamic Party (PAS) has risen in popularity, challenging his multi-ethnic coalition government's commitment to Muslim issues.
Chin said Anwar was also projecting himself as an Islamic leader in the style of two-time former prime minister Mahathir, who was for decades a vocal, bitter critic of Israel, although Mahathir's commentary also crossed into antisemitism.
Malaysian authorities had to be vigilant about the dangers of such an emotive issue said radicalisation expert Ahmad El-Muhammady, an assistant professor at the International Institute of Islamic Thought and Civilisation in Kuala Lumpur.
"There is a very subtle difference between a genuine humanitarian interest, protecting children [and] women and so on ... and radicalisation," he said.
"We have to be very careful when it comes to an issue of this nature because it may generate radicalisation and it may lead to violent extremism as a method of changing things."
El-Muhammady said he had noticed several discussions on social media platforms where the concept of travelling from Malaysia to the Middle East to go into combat had been raised.
"I look at conversations [on] Twitter and conversations on social media ... now people are gathering opinion and [asking]: 'So, are we allowed to go? Can we go? When are we going?' Conversation like this is taking place."
"The [Malaysian] government has to make clear about this one particular one point: Are they going to allow Malaysians to travel to join Palestinian resistance in Palestine, in Gaza? That would have a lot of implications for Malaysia internationally."
Between 100 and 150 Malaysians went to fight for Islamic State in Syria and Iraq over the past decade, a move the government made illegal.
Malaysia has had long-standing ties with Hamas political figures but has dismissed other links, including claims made in 2014 by Israeli security agency Shin Bet that Hamas militants trained in the country.
A Palestinian lecturer named Fadi al-Batsh was killed in a drive-by shooting in Kuala Lumpur in 2018 that was blamed on Israel's Mossad intelligence agency by his family and Hamas, which claimed the academic as a member.
Israel's defence minister at the time, Avigdor Lieberman, denied that Mossad was behind the assassination but claimed Batsh was a rocket-making expert, calling him "no saint".