Opinion
Swede nothings: Gustavsson coy on Matildas future with US job still vacant
At the start of the press conference for the Olympic qualifiers in Perth, all four coaches were asked to give an opening statement. Taiwan coach Chan Hiu Ming went first. "You can call me Chan," he said, charming the media in attendance with an explanation of why Chinese surnames come first.
Next came Iran coach Maryam Azmoon, who spoke about the power of women's football and thanked Australia for joint hosting the World Cup. Then it was Mark Torcaso, the Australian who took over from Alen Stajcic as Philippines manager. He acknowledged the enormity of the World Cup for his team and said they were ready to face some very good opponents.
Tony Gustavsson was last, but obviously not least. Within 15 seconds he was dissecting the Matildas' pressing game.
"Thanks for that," he started. "I want to welcome all the coaches and the teams as well to Australia. So happy to have you here, because this is the first time I'm really in front [of the] media after the World Cup.
"I just want to do a little short summary. I spent nine months analysing the World Cup. You can imagine a coach wanting to be on the field working with players, talking to coaches and analysing. I'm sick of that now. But … "
And then it began in earnest.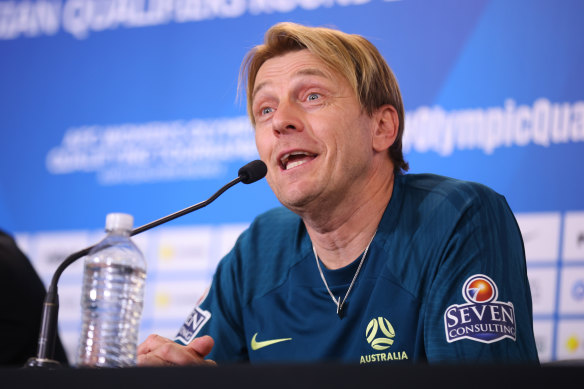 " … some of the takeaways that we took away from the World Cup – football specific – is that in terms of our pressing game, we were one of the most efficient teams in the World Cup in terms of pressing efficiency, and that was one of the key reasons why we went as far as we did.
"But in terms of the regain minimum, when we lose the ball and win it back, we were not as good as the other top teams, so we need to improve in that direct pressing game. The stats show that very clearly so … "