AFLW star Chloe Molloy is uncomfortable at the Swans.
It's how she knows leaving Collingwood was the right choice.
Last season, the Magpies fan favourite flew the nest and headed to Sydney on a five-year deal – the longest contract in the history of the competition and arguably the biggest trade of the off-season.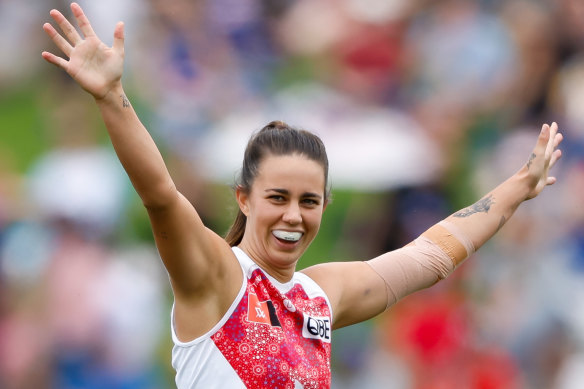 The Swans landed the 24-year-old club best-and-fairest, two-time All Australian and Rising Star winner during the priority sign and trade period, where the four newest teams to join the competition – Sydney, Essendon, Hawthorn and Port Adelaide – were allowed to sign players without a trade. The Swans got special permission to sign Molloy on a deal two years longer than what other sides were allowed to offer.
Molloy declares there's not a hint of malice or drop of bad blood between her and her old side.
"I look back at the person that I was at Collingwood and I was happy. I was playing awesome football, playing for the club that I grew up loving, playing with some of my best mates," she said.
"But I think for the evolution of myself and Collingwood, there had to be change."
She was an established player at the Magpies, settled in her routine and wanting to expand her wings, so to speak. The Swans provided her the opportunity to help form the culture of the new side and put younger players on her back.
"It's definitely made me uncomfortable, in a really healthy way as a person. I've found new layers to my leadership [because] I had to," said Molloy.
"It's been one of the best challenges so far. I've only been there a few months. So I can't imagine within the next few years, what more is going to happen ... Not once have I ever thought that I didn't want to be there or that I made the wrong move."
Molloy will meet her old side in a crunch game at Henson Park this weekend in a game the Swans are also using as a home Pride round.
It was always going to be a big storyline when the high-profile goalkicker faced Collingwood for the first time.
But add into the mix that both teams are chasing a spot in finals with two rounds to go – the Swans a surprise bolter after going winless last season, and there's even more on the line.
"[It's a] crucial game for us if we want to make finals and even the fact that I'm saying the word finals after last season, the side wasn't able to produce a win," Molloy said. "So, it's going to be fun coming up against Collingwood."
In her first game in the red and white, Molloy captained the Swans to their historic first AFLW win against Greater Western Sydney in the derby and helped turn the tide of success at the club. The Swans now sit 4-4 and within the race for a top-eight spot after going winless last year.
Molloy has had a huge influence on the Swans' sharp rise. She's kicked nine goals in eight games and last weekend set a record for score involvements in an AFLW game with 17 – along with three goals, 11 marks and 28 touches – in her side's 57-point thrashing of the Western Bulldogs.
Given the season she's had and her ability to turn games on their head, she's been the target of opposition players more than ever this year. If she is to receive more attention on Sunday, she's prepared for it.
"I think probably got more attention in the past six rounds now I have ever had in my career. Look, if they want to send a tag to me, that's fine," said Molloy.
She also knows it's a game many avid AFLW fans, particularly Sydney and Collingwood supporters, circled at the start of the season.
"I'm like, that's going to be an incredible game to watch. You're watching Chloe Molloy take on her old side. I know in the news was it was one of the biggest trades in the off-season," she said.
"So, if I was an AFLW fan, or someone who had a keen eye on it, I would definitely be tuning in to the game just to see what unfolds."