HISTORY
Bennelong & Phillip: A History Unravelled
Kate Fullagar
Scribner, $55
The long road to conciliation between First Nations and European settlers has been tortuous, and after the result of the Voice referendum, there is still much ground to cover. The first attempt at conciliation occurred soon after Governor Arthur Phillip proclaimed possession of the colony of New South Wales on behalf of the British Crown. He needed an intermediary to "open an intercourse" with the original inhabitants and negotiate a treaty to legitimise the mass seizure of their land, to turn invasion into legal settlement. That intermediary was Bennelong.
The customary view of Bennelong is bleak. For more than 200 years, he was usually depicted as a helpless lackey of Phillip, caught between two worlds and finally discarded by both. Far from being an effective conciliator, he was a naïve victim, used and manipulated by more powerful forces and whose life ended in abject failure, alcoholic despair, and a tarnished legacy.
In contrast, Phillip was cast as a disciple of the Enlightenment: rational, secular, equalitarian, and benign. His refusal, for instance, to seek retribution after being speared at Manly Cove by a Wangal man in September 1790 is taken as evidence of his tolerance and benevolence, unique among the early NSW governors. Moreover, the Australian-centric view portrays Phillip's five-year governorship of the colony as the crowning achievement of his career.
In this significant, entwined biography of both men, Kate Fullagar dispels the myths surrounding Bennelong and reframes the context of Phillip's life. Enabling this historical revisionism is her bold and imaginative narrative approach. The book starts at the end of both lives (1814 for Phillip and 1813 for Bennelong) and unravels their stories backwards, to their beginnings.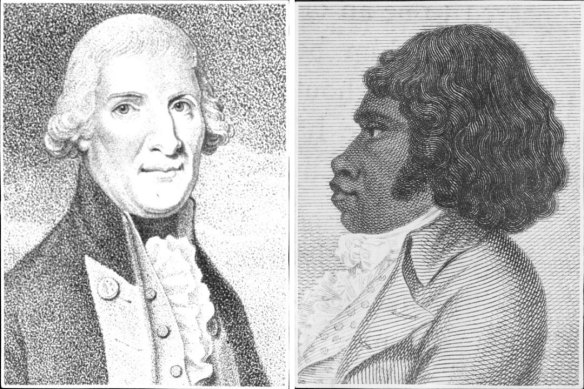 To those accustomed to seeing the past in terms of cause and effect, and change over time, this reverse chronology may invite scepticism. But in Fullagar's astute hands, it works. Foreshadowing the past instead of the future highlights more sharply that Phillip's governorship was merely one, almost incidental, episode in a long trajectory of patriotic service to the Empire: "the real centre of his life was fighting the Europeans, wherever needed, for the advancement of British supremacy". Colonising New South Wales was, to Phillip, a further means of protecting global imperial interests.
While Fullagar concedes that Phillip was influenced by Enlightenment ideals, she reveals the complexities and ambiguities that punctuated his political and personal life. His humanitarian impulses were constrained by the exigency of circumstance and loyal devotion to Britain. Acting on the Crown's order to "conciliate [the] affections" of the Euroa people, he ordered two from their number to be captured. In November 1789 Bennelong was kidnapped and for a month, until he escaped, was shackled in leg irons attached to a rope inside a hut. The payback was the near-fatal spearing. Phillip recognised that the spear was revenge for the shackle, and did not retaliate. This reckoning inaugurated a temporarily productive cross-cultural relationship.
In reversing through time Fullagar also sees Bennelong in a different light. Just as Phillip sought to defend the Empire, so Bennelong tried to defend his own world. This extended from his two-year visit to Britain accompanying Phillip, back to his earlier acquisition of English customs and language when he frequented Government House. The first demonstrated his skill in playing the English game, recognising the necessary protocols (such as attire and manners) without surrendering dignity; the second how he understood that détente rather than defiance could better consolidate non-violent relations between coloniser and colonised.
Instead of being manipulated, Bennelong was a shrewd strategist. To cite one example: when the colony was on the brink of starvation, he withheld from Phillip his knowledge of food sources or the skills necessary to obtain new supplies. This politics of refusal, as Fullagar terms it, is suggestive of Bennelong silently undermining the colony's development that, in turn, would limit settlers' further encroachment and dispossession.
This book, then, invests Bennelong with agency and restores his sovereignty. Fullugar emphasises how consistently he was embedded in his own community, concerned with its welfare and faithful to its culture. In his final years, Bennelong was respected as an elder, not scorned or forgotten. He did not die as a tragic drunkard.
In its broad outlines, much of Bennelong & Phillip is familiar. Fullugar relies heavily on an existing and extensive scholarship, but the innovative structure, fluent prose and illuminating analysis make this book an absorbing read. Many archival sources, especially concerning Bennelong, are fragmentary or absent and thus give rise to conjecture and speculation. Yet Fullugar transforms elusive detail into a compelling narrative.
This is not only an important book but a timely one: she concludes that under Bennelong and Phillip, conciliation between First Nations and settlers was briefly attempted but ultimately unsuccessful. Understanding the historical context for this will help us, as a nation, to acknowledge its urgency and necessity.
Phillip Deery is Emeritus Professor of History at Victoria University.
The Booklist is a weekly newsletter for book lovers from books editor Jason Steger. Get it delivered every Friday.