Opinion
I used to enjoy a tipple (or three) while on holidays. Not any more
I'm sitting in a high-rise hotel bar in Tokyo, the blinking red lights atop the city's buildings punctuating a dreamy nightscape view.
The bartender theatrically presents my drink, pouring a rosy-hued concoction into a stemless martini glass that's placed snugly into the top of a bamboo tower.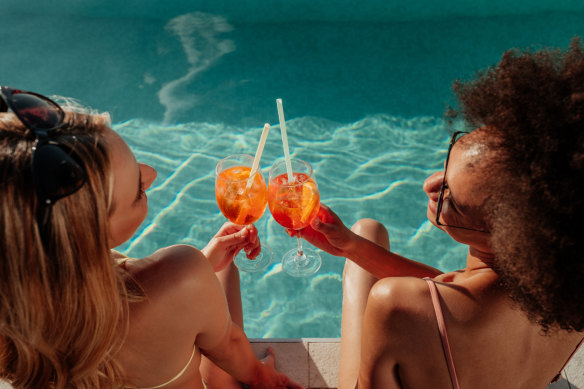 "It's designed to resemble a sake glass," says mixologist Mari Kamata, the woman who conceptualised it.
I take a sip and think, now that's what you want in a cocktail: depth of flavour, intriguing notes, nice viscosity and mouth feel, an enticing nose, lovely to look at.
It's the perfect drinker's moment – except I've been a non-drinker for more than a year now.
Before this, a big part of the fun of travel for me was drinking. I wasn't a boozehound like a bunch of British boys on a pint-fuelled lads' weekend in Prague. It was more the case that alcohol punctuated proceedings in a very pleasant way. Beer after a hot day touring round Bangkok? Bliss. Cool white wine on a terrace in Greece watching the sun set? Yes, please. A big bowl of pasta and a fine Chianti in Chianti? Bellissima.
I've always been a stop-and-smell-the-roses kind of person. The roses just smell that much sweeter now.
But an injury, associated surgeries, a noticeably increased propensity for inflammation and – if I'm honest – age, meant something had to change for me. If I wanted to actually do the walking and the other activities that warranted the sun-over-the-yardarm reward, I had to remove a big source of inflammatory response. And boy, is alcohol one (and that's not just for me, friends.)
I thought about cutting down and limiting myself but I'm an all-or-nothing kind of gal, so I went for nothing (I may not be a boozehound but I am not a "just one" person, either). And while I worried that my decision would decrease my enjoyment of travel – surprise – it has increased it immeasurably.
My cocktail at Peter The Bar is called a Baby Tokyo Joe and features cranberry and lemon juice, triple sec syrup, cardamon and non-alcoholic ume (plum) liqueur. The whole drink is in fact zero per cent, and one of half a dozen thoughtful no-alcohol cocktails on the menu.
Kamata, the Peter manager, isn't much of a drinker herself.
"I get sick with headaches," she says.
It's little wonder the bar she keeps on the 24th floor of The Peninsula Tokyo has such an innovative non-alcoholic cocktail list.
"Drinks are all about the five senses," she says. And it's that multi-award-winning philosophy Kamata brings to the alcohol-free list.
To call them "mocktails" is to do Kamata's work a disservice. As any non-drinker who's sought an adult drink in a bar will tell you, the term "mocktail" often applies to sweet offerings that amount to not a lot more than fruit juice and ice with a fancy garnish and ridiculous price.
But like a growing legion of bars where the mixologists have real pride in and love for their craft, The Peninsula Tokyo takes its virgin drinks as seriously as its proof siblings.
And lately Kamata has noticed it's not just local non-drinkers and those staying at The Peninsula but travellers from other hotels who come to Peter to enjoy her sophisticated no-booze creations.
That's because there's a worldwide movement. Less akin to the term "sobriety", which implies shunning drinking culture completely, the "sober curious" and "no-lo" trend (that's no- or low-alcohol) embraces the pleasures of the bar minus the stuff that gets you drunk.
In Japan, a nation as notorious for its drinking culture as Australia, young people are consuming far less alcohol than the previous generation, so much so the national tax agency that collects alcohol excise ran an ad campaign encouraging them to imbibe more. But bars completely without booze are taking off – both in Tokyo and elsewhere around the globe.
It's also worldwide that millennials and gen Zs of age are drinking far less alcohol than their parents. But many still want to experience the atmosphere and artistry of a good bar.
Recognising this, beverage companies have jumped on the bandwagon with the likes of Heineken, Peroni, Suntory and Holsten releasing zero per cent beers. Alcohol-free spirits have flourished too, since the release of Seedlip, a non-proof gin, in 2015. Wines with the ethanol removed are improving all the time and more and more wineries are producing them. This has made taking part in bar culture as a teetotaller all the easier and more enticing.
So how has this newfound sobriety charged my enjoyment of travel? Apart from the aforesaid reduction in inflammation – and there has been a marked one – there are the obvious things such as waking up fresh and strong in the morning, less grogginess after a long lunch and/or afternoon nap, and the dollars saved. Alcohol is expensive.
There's also an increased sense of safety. As someone who often travels alone, not being even the slightest bit impaired as I walk, train or taxi home in the evening is incredibly good for my sense of wellbeing.
But the best thing for me is that not drinking while travelling has greatly enhanced my ability to be present and in the moment. Sure, that might mean less tolerance for tipsy after-dinner talk (was I really this boring?) but not dealing with alcohol and its effects really does lift a veil on life. I've always been a stop-and-smell-the-roses kind of person. The roses just smell that much sweeter now.
And the mental health benefits of giving up the booze are well documented. I'm here to tell you, the documents don't lie.
I'm certainly not anti-alcohol and am grateful for the fine wines, scintillating sparklings, classy cocktails and other imbibements I've enjoyed in my life. If you enjoy a drink on holiday and it doesn't get in the way at all for you, I'm not only on board with that but also perhaps a little bit envious.
I have, however, discovered people to be a little envious of my new way of travelling. On a recent weekend away, I got cornered by a friend with what has become a very common line of questioning: how do you get to the point where you are okay with not drinking on holiday?
"I just can't imagine never ever again having a beautiful glass of red wine with an amazing steak frites in Paris," she said, her current glass of red glinting attractively in the glow of our accommodation's fireplace. "How do you get past that?"
"I used to have those thoughts," I answered. "I think they are common for drinkers contemplating not drinking. But now, it's simply the case that I want this more than I want that."
She didn't ask what the "this" was and wandered off to join a perhaps less challenging conversation. But she did get me thinking about exactly what I meant.
"This" is not "sobriety". I am not a fan of the word. It sounds the opposite of fun. "This" is more akin to a new kind of fun that's become more attractive to me than alcohol. Let's call it good clean fun.
Cheers to that.
The writer travelled to Japan as a guest of the Japan National Tourism Organisation and stayed as a guest of The Peninsula Tokyo.
Sign up for the Traveller newsletter
The latest travel news, tips and inspiration delivered to your inbox. Sign up now.
Julietta Jameson
is a freelance travel writer who would rather be in Rome, but her hometown Melbourne is a happy compromise.
Connect via email.