The 'world's worst airport' fails to live up to its reputation
The airport
Humberto Delgado airport (LIS), Lisbon's only commercial airport.
The flight
Wizz Air W94494 from Lisbon, Portugal to London Luton, England.
The arrival
​​Lisbon's airport sits just seven kilometres from my accommodation in the historic centre. Public transport includes a direct shuttle to the city centre €4 ($6.80) or the metro €1.60 ($2.65) or €6.30 ($10.50) for a 24-hour pass if you're planning a big day, although it only stops at terminal 1. Spooked by the prospect of a shuttle to terminal 2 that allegedly comes every 12 minutes (I'm already late to everything), I opt for a ride-sharing car. The 20-minute voyage – in one of Lisbon's electric fleet no less – costs just €8 ($13.25).
The look
Hosting only European budget airlines, terminal 2 could pass as an underloved shed on a rural estate that received a layer of matte silver five years prior (see: lipstick on pig). Inside it's a loud, echoing, pretty unpleasant chamber with a perpetual soundtrack of wailing children. Pack your noise-cancelling headphones.
Check-in
A couple of staff attend the desks of the all-star cast of budget operators, with noticeable but not outrageous lines at each. Wizz Air gives me no option but to check-in online beforehand, leaving me to march smugly to security.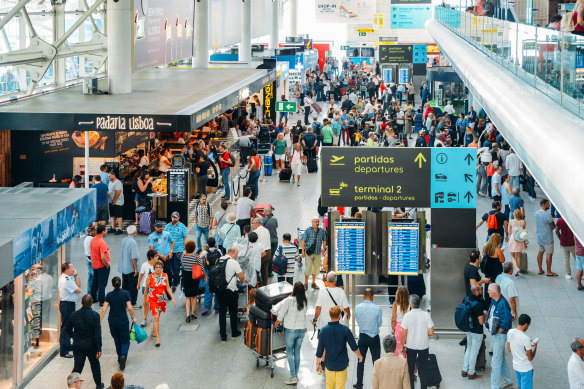 Security
Having discovered Lisbon was ranked the world's worst airport last year by one comparison site, I brace for hell. The reality couldn't have been more different. Without needing to break stride upon arrival, the security process ticks all the boxes – my laptop stays in my bag, there's a long metal table for repacking (a profoundly underrated airport tool); and the trays automatically stack at the end of the magic carpet.
Food + drink
You need a final indulgence – trust me – and one cafe both sides of security can provide it. At €13 for a six-pack of Pasteis de nata (Portuguese custard tarts), the price is refreshingly reasonable. Should you require something more substantial, options are limited. Alongside a Heineken bar, all roads lead to the golden arches. Unlike in Australia, Portuguese McDonald's offers a plant-based burger.
Retail therapy
Among limited options, most impressive is the "deli corner" of vending machines selling drinks, snacks, power adapters, money belts, Bluetooth headsets (yes, they still exist), SIM cards, mobile phones for €35 ($58) and face masks. The duty free is stellar, and by that I mean there are at least 15 port wine options starting at €10 ($17).
Passing time
It's a bare-bones operation so if you're flying within the EU, bring a good book. If you're leaving it, as I am with the destination London, wear comfortable shoes. The desks are situated at the entrance to the gates, meaning a stampede each time boarding opens and a 45-minute wait before I'm walking across the tarmac. More positively, the free, unlimited Wi-Fi is strong enough for me to stream a football match.
The verdict
Lisbon gets the important things right: the transit is rapid, lines are limited (except if you're flying to a nation that chose to Brexit) and you can enjoy some final tastes of Portugal.
Our rating out of five
★★★★
The writer travelled at his own expense.
Sign up for the Traveller newsletter
The latest travel news, tips and inspiration delivered to your inbox. Sign up now.